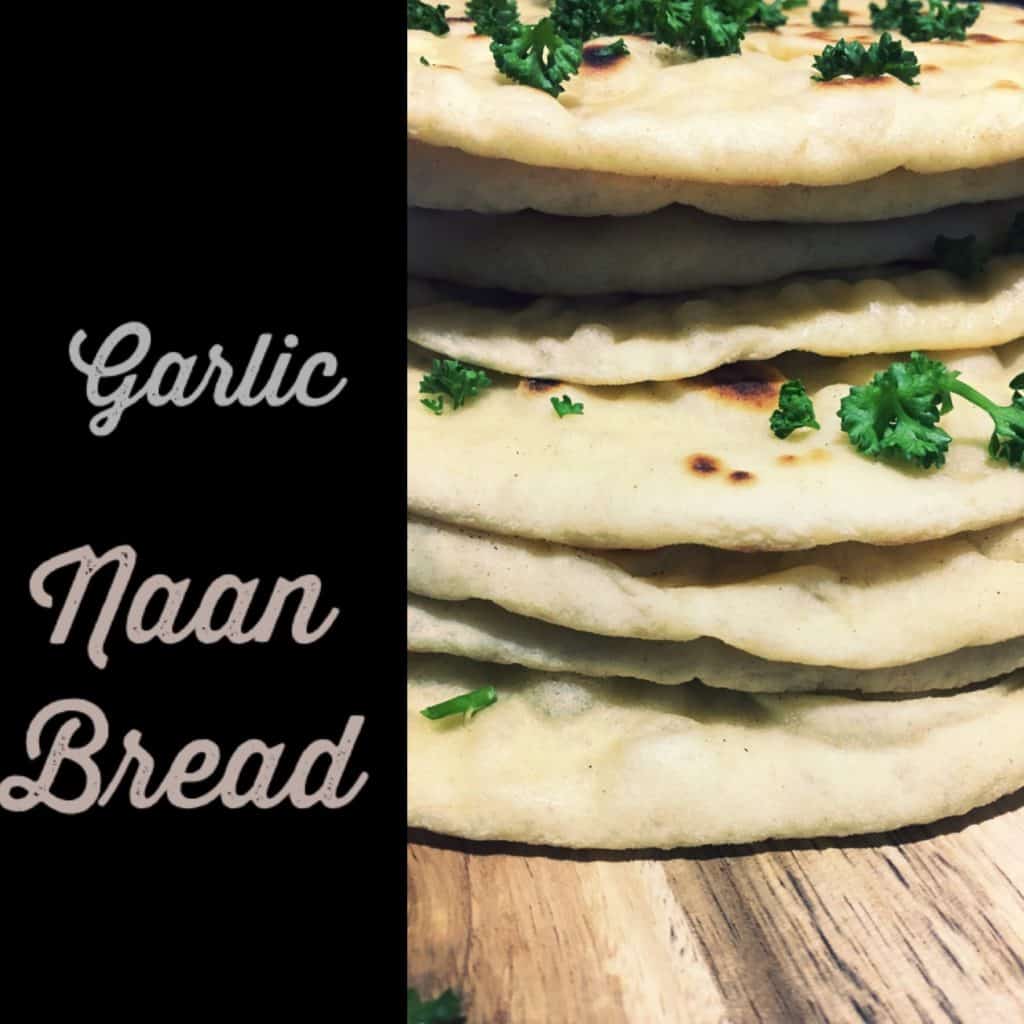 Impress your dinner guests by making your own Naan bread. These little garlicky slices of heaven accompany a variety of dishes.
We love them alongside our home-made Tzatziki dip, with our slow cooker lamb with lemon and herbs or Zaatar Chicken. They're perfect when barbecuing, you could easily cook them before you start on your meats, add a fresh salad and your dinner is done! Dip them into curries, the world is your oyster!
Garlic Naan Bread
Ingredients
Yogurt
100

g

yoghurt

about a cup.
Flour
350

g

bakers flour

2 1/2 cups.

2

tsp

onion flakes or powder.
Herbs & Spices
2

tsp

garlic powder or minced garlic.

1

Tbsp

olive oil.
Butter
25

g

butter

about 2 Tbsp.
Instructions
Combine the sugar, yeast and warm water, let it sit for about 10 minutes until foamy.

Add your dry ingredients to a large mixing bowl and stir to incorporate. Alternately you can put all the dry ingredients into a mix master and mix together.

Add the yoghurt and oil to the foamy yeast mixture, stir to combine and pour into the dry ingredients. Knead either by hand or machine for about 5 mins until smooth and elastic. Lightly oil a bowl, place your dough in and cover with cling wrap. Rest for about 45 minutes or until dough has doubled in size.

Tip out your dough and roll into a log, cut it into 8-10 pieces depending on how large you'd like to make your naan.

Pre-heat a nonstick frypan on med/high and melt your butter in a small bowl.

Sprinkle a little dusting of flour on your bench or chopping block and roll out your dough to desired size. I like to make them quite large so that we can place some fillings on them and fold it together. Smaller sizes would be more ideal for dipping into curries or dips.

Cook your dough until you see it begin to form bubbles, once there are good bubbles, usually takes 1-2 minutes, flip it over and cook for a further 30 seconds or so. Transfer to a tea bowl, brush with butter and cover with towel while you cook your next naan.

Repeat the process until they are all cooked. Keep warm in the towl until ready to serve. Garnish with fresh chopped herbs if you like
Notes
These freeze very well once cooked and let to cool. If you don't want them too garlicky, leave out the garlic in the dough, then brush with garlic butter at the end, for a lighter garlic taste.