If you are searching for a simple tenderizing steak marinade, then this juicy, tender steak recipe is for you!
For years I couldn't cook my steak well enough for it to be tender. I don't know about you, but I don't really enjoy gnawing through my steak. I really enjoy it when it's tender and easy to chew. I must confess, I think the secret to this recipe is the bi-carb soda. A friend of mine told me sometime ago that she adds it to her stir fry, so I started to do the same. It was a game changer! My stir fry's became so tender and never tough, but I was yet to try it on a steak.
Then this recipe was born, I've been using this recipe for quite a while now and even when cooking tougher game meats like kangaroo and venison, the results are amazing. My daughter does not often eat meat, but when I give her some of this steak she actually enjoys it.
I believe the bi-carb soda acts as a tenderiser and the addition of acidity in the apple cider vinegar helps to start breaking down the proteins, these are guaranteed to be tender.
I love to sneak mushrooms into my families food whenever possible because they are one of the few foods that contain selenium and Vitamin D amongst many other vitamins and minerals, using them in powdered form enables me to do this quite often. If you can't find powdered mushrooms. Simply by a packet of dried mushrooms and use a food processor to create your own.
We generally serve this with some home-made chips and a garden salad. You could slice the steak and serve it tossed through a salad with some naan bread on the side. Or keep it simple and serve it with some steamed veggies.
Either way you choose to eat this, I certainly hope you love it as much as we do.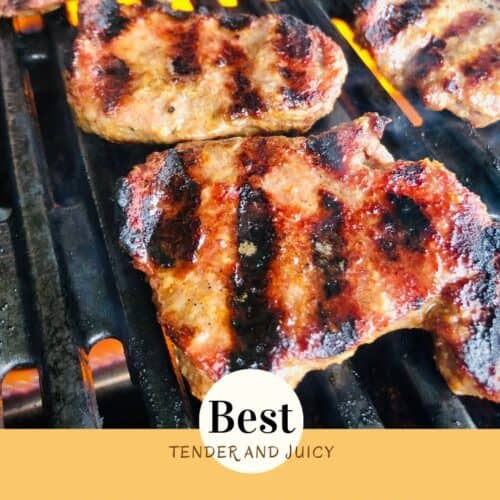 Marinated BBQ steak
Ingredients
500

g

topside steak. *

1

Tbsp

olive oil.

1

tsp

apple cider vinegar.

1/2

tsp

bi-carb soda.

1

tsp

organic gluten free soy.

1

tsp

mushroom powder.

1/2

tsp

garlic powder.

1/2

tsp

onion powder.

salt and pepper.
Instructions
Mix all of your marinade ingredients together, then add your steak. Coat the steak thoroughly in the marinade and leave out at room temperature to rest for an hour.

Pre heat your BBQ when the steak has 15 mins left to marinate.

Spray a little olive oil directly onto the steak before placing them onto the grill section of the BBQ. Close the lid if you have one, let it cook for around 3 mins. Then spray with oil and flip over to cook for a further 3 mins.

If your steaks are quite large, after their second side has cooked for 3 minutes move them onto the solid flat side of your BBQ, turn down the heat to low, cover and cook until they are cooked to your liking. **

Remove and rest for 5 mins before serving with your choice of sides.
Notes
ur choice for steak if possible, is kangaroo or venison. But when I can't get either of those I would settle for a regular beef Topside or flank. Marinating game meats is a great way to tenderise them as well as reduce their strong flavour. Whenever possible, try to purchase your meat from a local butcher. They usually grow their own stock and are predominately grass fed with better living conditions, not to mention they are generally raised locally. Animal welfare is important for my peace of mind if I'm going to eat it.
** Usually our steak pieces are only around an inch thick. I don't like to leave things on the grill plate for too long in order to reduce charring. Moving them onto the solid cast iron section will prevent them from browning too much whilst finishing them off.
It is really important to let your steak rest for a minimum of half its cooking time to allow the juices to settle and redistribute themselves throughout the steak, making it super tender and juicy.
You could absolutely marinade the steaks the night before cooking, just bring them out of the fridge an hour prior to cooking to bring them closer to room temperature.
Any acidic medium can be substituted for the apple cider vinegar, quite often if I have plenty of lemons or limes I will use them. Rice wine vinegar and white wine vinegar also work well.