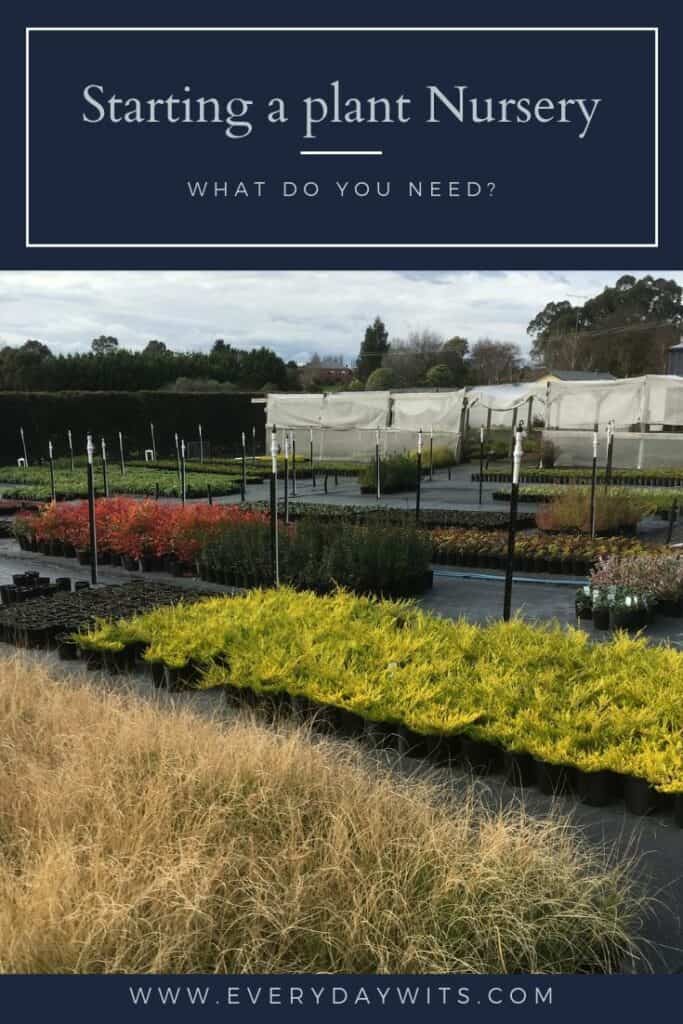 This is a list of things that you will need to be able to start your own plant nursery. We created our wholesale plant nursery from scratch and hope this article is helpful to you on your journey.
A Plan.
You'll need a plan in mind for your nursery.
Are you going to be wholesale or retail?
A wholesale nursery supplies plants to retail nurseries, landscapers and even other wholesalers. This is the type of nursery that we operate. A retail nursery is open to the public.
A wholesale nursery sells plants in bulk but at a cheaper rate. Retail nurseries allow a mark up on their prices as they provide expertise and advice as well as plants. Wholesale nurseries can be more limited in their products, where a retail nursery should have a large selection of plants in a wide range of pot sizes, and also provide the customer with extra home wares and gardening items.
You'll need to know wether you need certain approvals and business registrations in place.
This will vary for different locations. For our nursery we had to have council approval and our business name registered and approved for tax purposes.
Sometimes you might be able to get away with starting it as just a "hobby" without any approvals. But eventually if you want to make a meaningful income you're going to need to register with the appropriate authorities.
I would check with your local authorities. For example we needed to get our local councils approval due to the way our land was zoned. Had we have been zoned as a "rural" zone we would have not needed the councils approval.
Know the market
It's important before starting any business that you understand where your business will fit in. You need to stand out in some way to be able to attract and retain customers. It doesn't matter if you're a retailer or wholesaler.
There is a multitude of ways that you can stand out:
Specialise in certain plants (Water plants, shade plants, native plants, succulents, etc)
Provide service above and beyond
Have unbeatable prices
Provide for a specific market (grow advanced plants, grow tube stock, etc)
You only need one thing different that has the potential to attract customers. Basically you want to find a gap in the market and fill that gap.
Some advice
I believe that before you start a plant nursery you should work in the industry first. Think of this as a paid apprenticeship. It will allow you to see first hand how things work, and if it's something that you can see yourself doing long term.
Over the years I've seen many people come and go. Before you commit time and money, make sure that this is definitely something you truly want to be doing. After all you spend a lot of time working.
Don't misunderstand my words of caution, starting our own plant nursery has been one of the best choices we ever made. I just want you to succeed and i feel this is a much wiser course of action than just jumping in head first. All I'm saying is, dip a toe in, then a leg, and if you love it, jump in!!
Petra & I each worked 7years in the industry before we pulled the trigger to start our own.
Land.
Land is the first physical thing you will need to be able to start a nursery. This can be land that you own or rent. It doesn't need to be a huge amount of land.
We own 1 1/4 acres of land and we have a successful nursery. I know of nurseries operating on less than 1/2 an acre. Obviously the size of the land will limit what you are able to grow.
You could fit over 100,000 plants in tubes onto 1/2 and acre. If you were aiming to grow advanced trees this would be too small an area to generate a meaningful income.
The land needs to be in an area close enough to customers. If you creating a wholesale business, you can afford to be further away from your customers, as you are going to be delivering to most of them. Retail nurseries are best a close as possible to the potential customers, as people are generally time poor and do not wish to travel huge distances (this is not a deal breaker, but will make it much easier to succeed).
Land with a gentle slope is the best suited for a plant nursery. This is mainly for drainage. If you can recapture the water runoff from watering you'll save money and it's always good to be water wise!
You'll want the slope to be gentle just so that it's easy to walk around the property. This is for both retail and wholesale. I've seen some nurseries on some pretty step slopes and it really makes working that much harder.
Water.
Water security is a must! When we were looking for our property we didn't look at any blocks that were not connected to the town supply.
Keeping your plants alive is essential! If you're on a large property with dams that you think will never run dry, i would still install a bore as a back up.
The climate is very unpredictable, at least it is here in Australia. I never know if it's going to be a dry year or a wet year.
If your able to recycle your water this will really help your overall usage decrease.
Inventory.
Wether retail or wholesale you'll need plants.
In our nursery we propagate everything ourselves. We find this allowed us to be incredible competitive on price. This allowed us to save money in the beginning. I also believe it gives us a superior product as we have been in control of the entire grow cycle.
However that's not the only way to build up an inventory. There are many wholesale nurseries that specialise in the production of very small plants (we call these "plugs") that can be provided at low cost and then potted into larger pots.
For wholesalers growing more advanced plants in large containers they may buy from a grower like us who mainly focuses on growing in smaller containers.
Retail nurseries can also start off small with plants that you have propagated yourself, or buy plants from multiple wholesalers to stock the nursery.
When we started we had a very limited inventory. The range of plants was too small to be able to approach retail nurseries, however we still needed to sell them.
What we did was go to local farmers markets. This was a great low risk way to generate a small income that we could reinvest into the business. It also allowed us to see what retail customers were buying and how much they are willing to spend.
Customers.
Of course customers are going to make or break your business. A wholesale nursery like ours doesn't require a large number of customers.
We have a small customer base but because they buy in bulk quantities we are able to make a feasible income.
Even though we only have a small number of customers it's important that you don't put all your eggs in one basket. What I mean by this is don't rely too heavily on any one customer for sales.
A retail nursery is going to rely on many customers but generally spending much less.
In retail it's going to be incredibly important to be polite and courteous at all times. You want every customer you get to rave about you to their friends and family.
Word of mouth is always the best form of advertising! Sometimes however it will be important to let people know about you through advertising and social media. It's wise to put some money aside for this purpose, particularly when starting out.
Suppliers.
You're going to need suppliers. One of the benefits of having your own business is the ability to buy things from wholesale distributors at much lower prices than the everyday consumer.
I touched on the fact that retailers and wholesalers have many options when it comes to finding suppliers for plants. There are other supply's you will need besides plants.
Somethings on this list are not essential i simply include them to make you aware that there are wholesalers out there providing the equipment or expertise needed. Don't pay retail!
Plumbing- You're going to need to make sure that you can water all the plants, but also you'll need to allow excess water the ability to escape. There is generally a lot of plumbing under the surface of any nursery.
I'll keep this brief. It's best but not completely necessary to try and automate what you can from the beginning.
For years we watered our nursery with just regular household water pressure, it took hours!! Eventually we added a sprinkler system that was connected to a multistage pressure pump. Well that was a game changer!
It's funny I don't use the sprinklers a great deal, but the time that the multistage pump saves is incredible. It's something I wish we had from the very beginning.
They are simple to set up, all you need is a tank that can be connected to your regular water supply. The pump draws water from the tank, whilst it's slowly getting filled from your regular supply or recycled water.
You'll also need hoses and fittings. I always like to keep extra hose fittings and hoses on hand. They don't last forever and something will go wrong on a public holiday when you can't get any replacements parts!
In terms of drainage its best to get this in first to save headaches later.
Gravel- You really do need to put down a layer of gravel over the surface of the nursery. The gravel will let air and water pass through and greatly reduce any outbreaks of diseases, fungus and unwanted bacterias.
I recommend laying down some weed mat on top of the ground and then placing the gravel over the top. This will form a good physical barrier, that should stop any mud from gobbling up the gravel. Gravel isn't super expensive but replacing it over and over is!
Weed mat- As i just mentioned this is great as a physical barrier between the ground and the gravel. In our nursery our entire growing area in covered in weed mat.
This prevents soil, dead foliage and dust from entering the gravel. Not only does this extend the life of the gravel but it also keeps the nursery very clean. A clean nursery is a more efficient nursery!
I would not recommend covering the entire surface of a retail nursery however. The weed mat can become slippery at times and no one wants an injured customer.
If you have any areas that are off limits to the public. Area's where you're growing your own stock, by all means use it there.
Weed sprayers & herbicides- Weeds are an inevitable part of owning and operating a nursery. You're going to need a management plan and the above equipment.
Pest control equipment- Like weeds pest are also inevitable. We personally prefer to stay as natural as possible but from time to time you'll need to do what's necessary to protect your lively hood.
Remember never mix your pest control chemicals in your herbicide sprayers!
Trolleys- There are plenty of manufactures of specially made trolleys for the nursery industry. Retailers will want small easily manoeuvrable trolleys, whilst wholesalers will prefer the larger trolleys able to move larger quantities of stock.
Benches & Shelving- Things like potting benches and shelving for plant transport. Quite often you'll want these items specifically crafted to your needs. Some common sizes will always be available from suppliers ready to buy.
Greenhouses/Shade houses- It is possible to create your own. I found i saved much more time buying the greenhouse in a kit form. Most suppliers will also offer an installation service if you don't feel confident enough to assemble the kit.
Fertilisers & Potting mix- If you plan on setting up a wholesale nursery finding a quality supplier of potting mix is very important. A few things to look for are the ability to retain moisture and fertiliser/ trace elements in the mix. Getting this right will allow you to produce high quality plants faster and more efficiently.
Retail nursery should defiantly consider stocking these items for their customers in bags and tubs.
Labelling- Find a specialist printer for all your label needs. There are companies out there that provide labels specifically for the horticulture industry. These labels are printed with ink able to withstand the sun and constant watering.
Stakes- For wholesalers if growing plants that require support. Retailers its another product to add to your range, customers are always looking to stake their tomatoes;)
That's the basics of the things you'll need to start a plant nursery. For us it has provided a great lifestyle where we get to set our own pace, be present for the kids and enjoy the outdoors everyday.
We hope this has been helpful and if you'd like more content like this, subscribe and let us know. Happy planting!
While you're on our website feel free to check out all the plants we propagate.
Ask me a question.
Use the email subscription form below to sign up for our EverydayWit nursery list.
Reply to the welcome email and ask me a question on starting a wholesale plant nursery. I'll do my very best to respond to everyones questions.