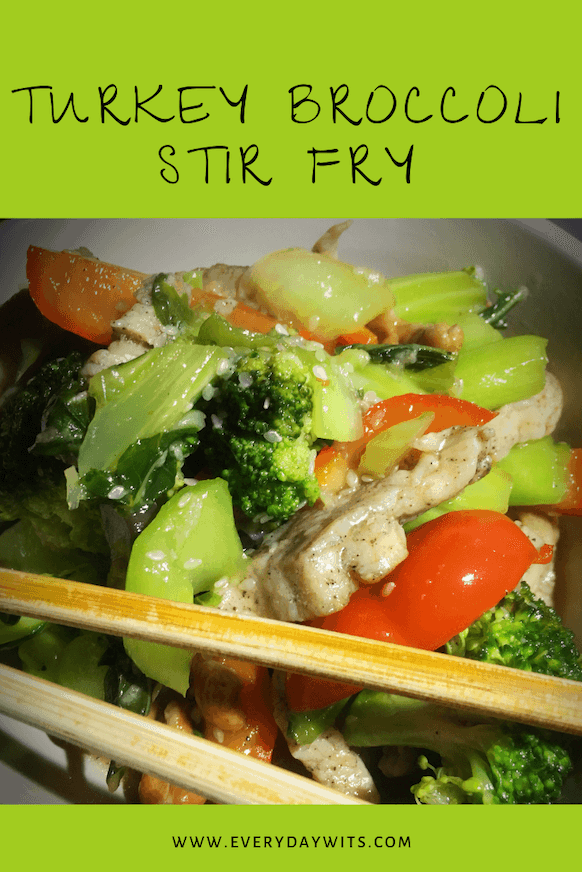 Serves 4
Tired of beef and broccoli? Try something different! This high protein meal will help you maintain your muscle mass while also providing you with a good serving of vegetables for your gut health.
Not only is turkey a good choice for protein, but it's usually more ethically raised and not full of growth hormones and other nasties, like your regular chook. I find that here in Australia, Ingham's have great turkey steaks available at Woolworths for a reasonable price. 
I've made this recipe gluten free by using potato starch instead of corn flour. Potato starch is a resistant starch, they are an excellent source of pre-biotics to help nourish your good gut bacteria. Looking after these little guys is one key step to good overall health!
This recipe is so fast to put together, your family can be eating in 30 minutes, probably faster than deciding what take away you want to order and waiting for it to arrive.
I love adding lots of greens, it just looks positively vibrant, and asian cuisine really lends itself to these vegetables. Even if you're not a huge broccoli fan, you won't be disappointed in this dish.
Alternatively, any of the veggies you don't like can easily be swapped out for your favourites. Carrot and cauliflower would work well.
You could also save yourself even more time in the kitchen by buying frozen pre cut asian stir fry mix.
Keeping this dish free from any noodles, or excess carbohydrates, makes this a wonderful low carb meal, which is a nourishing, nutrient dense and satiating, for a fraction of the calories you'd find in a take away shop. Not to mention that there's no added preservatives or flavour enhancers. You're in control of what you put in your mouth and on your plate!
Turkey Broccoli Stir Fry
Ingredients
500

g

sliced turkey breast.

1

large head of broccoli

cut into florets.

2

bok choy

chunky sliced.

1

red capsicum

chunky sliced.

large handful of snow peas

keep whole or slice thin.

3

cloves

garlic

grated.

1-2

cm

piece of ginger

grated.

1

Tbsp

olive oil.

1

tsp

sesame oil.

1

Tbsp

sweet chilli sauce.

1

Tbsp

oyster sauce.

1

Tbsp

tamari.

1

Tbsp

rice wine vinegar.

1

Tbsp

potato starch.

1/2

cup

bone broth

or chicken stock.

cashews and sesame seeds to garnish.
Marinade.
1/2

Tbsp

olive oil.

1

tsp

potato starch.

1

tsp

bi carb soda.

1

tsp

tamari.

1

Tbsp

lemon juice.

Salt and pepper.
Instructions
Marinade your turkey for at least an hour, preferably over night.

Prepare all your vegetables.

Heat 1/2 Tbsp of olive oil in a large wok on med to high heat, add your ginger and garlic and sauté for about 30 seconds to infuse the oil. Then add your turkey and cook until it's got a nice colour, about 3-5 mins. Remove it from the pan, leaving the oil in if you can.

Add your vegetables and cook for about 5-7 mins. Stirring intermittently.

While the veggies are cooking, place your remaining ingredients into a jar or cup and stir/shake to mix.

Add the sauce after the veggies are about half finished, we'd like to leave a little crunch in them to add freshness and texture to the dish.

Dish up into serving bowls and top with cashews and sesame seeds.
Notes
Use any seasonal vegetables that are available, if you can't get your hands on snow peas, use beans instead. No bok choy? Try another asian green, or even celery.
If you are wanting to bulk up this meal with extra calories, try adding your favourite noodle, hokkien would work well. Or simply serve it with a side of turmeric rice.