Support your liver with this root vegetable salad containing healthy olive oil and lentils for added fibre for a super healthy, nutrient packed boost to your diet. Root vegetables are an excellent sources of fibre, B and C vitamins and both of these are vibrant in colour providing you with a healthy dose of antioxidants needed by our body to help fight off free radicles.
The best thing about using these vegetables in particular is that you can make this salad anytime of the year, with both vegetables being available almost all year round.
Create this for an easy weeknight meal by pairing with your choice of protein. Serve it to your guests at your next function or simply have it on hand to create healthy fast lunches and stop yourself reaching out for takeaway or other unhealthy processed foods. The complex carbohydrates, fibre and healthy fats will help keep you going from lunch until dinner.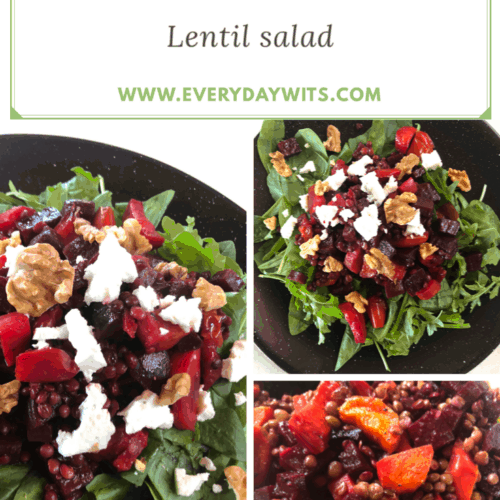 Roasted beetroot and carrot lentil salad
Ingredients
3

carrots

peeled and roughly chopped.

3

large beetroot

peeled and diced.

2

large red capsicum

roughly cut.

1

tin of organic lentils

drained (about 210g).

3

Tbsp

olive oil

1

Tbsp

balsamic vinegar.

1

Tbsp

apple cider vinegar

ACV.

3

cups

greens

baby spinach and rocket.

Feta and walnuts to garnish.
Instructions
Pre heat your oven to 200C and prepare your vegetables.

Grab a large baking tray (I love my stainless steel trays, they clean up easy and are non toxic for my family), place your prepared vegetables onto the tray along with 2 Tbsp of the olive oil and 1 Tbs of balsamic. Season generously and toss to coat.

Place tray in the oven and bake for around 50 mins turning the vegetables about halfway. Let cool slightly before assembling salad.

While the vegetables are cooling a little, prepare a platter by placing your 3 cups of greens on the plate. Chop some walnuts and pull out some feta.

Pour your drained lentils onto the baking tray with the vegetables and toss to mix, then serve the vegetable medley over the greens. Sprinkle over some feta and walnuts and drizzle over the remaining Tbsp of olive oil and ACV.

Serve immediately.
Notes
The vegetable medley can be made a day or two in advance and warmed up when you are ready to serve. The salad itself is actually very nice cold too.
Some parsley and pepitas would be an excellent addition and provide extra nutrition.
Quite often I will make this for my lunches, simply store the vegetable medley in a glass container and assemble when you are ready to eat. Vegetables will keep well in the fridge for about 5 days.