Euonymus is an incredibly popular shrub. It's easy to grow, disease resistant, pest resistant and easy to care for. It's evergreen and looks great all year round!
Euonymus is also super easy to propagate!
Every year we sell close to 1000 euonymus plants. So each year we need to propagate new ones. This article will show you the exact method we use in our wholesale plant nursery.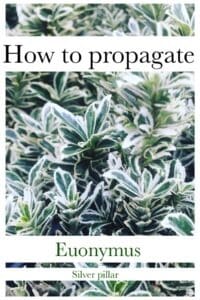 Cuttings
We use cuttings to propagate our euonymus shrubs. In our nursery we grow both euonymus japonicus and euonymus fortune. The way we propagate each is exactly the same.
We usually take our cuttings for euonymus in late autumn or winter. They can be taken at anytime of year, but this works best for us.
When the cuttings are taken at warmer times of year they will root faster but extra care must be taken to ensure they don't dry out.
By taking our euonymus cuttings during the cooler months we find them easier to care for during their most vulnerable stage (no roots).
It's also the time of year when our sales are at their lowest point, this means we have much more time for propagation.
We like to take cuttings approximately 5-7( 2-3") in length.
I know this seems small but it allows us to produce more off a smaller amount of cutting material. But more importantly it improves success rates.
The success rates on these euonymus cuttings is over 90%
Every part of the stem can be used provided it has some foliage and is not too woody.
Strip away the lower 2/3 of the foliage. (As shown is picture below)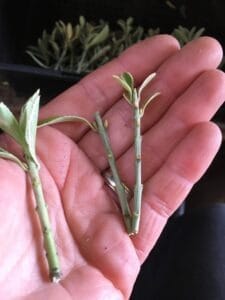 Now the cuttings are ready to plant into a propagation mix.
Strike the roots
To strike the roots on almost all the cuttings we propagate in our nursery, we use a mix of perlite and peat moss.
We mix it up ourselves at a ratio of 90% perlite 10% peat moss.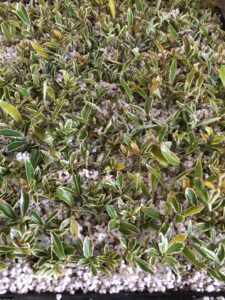 Both mediums are ph neutral and excellent at retaining moisture.
We fill up a seedling tray that has drainage holes with this mix.
Wet the mix. Just so it's moist and firm.
Plug the cuttings into the mix. Generally they are sturdy enough to push in easily.
If taking the cuttings during warmer months the stems of the cuttings may be more flexible. If so use a skewer to make a pilot hole in the perlite/ peat moss mix, then plug in.
Once all the cuttings are in the mix, water throughly.
Now store the cuttings in a sheltered, well lit area. We use our greenhouse. Provided they are out of direct sunlight and wind you'll be fine.
Our cuttings take about 3 months to strike roots. Keep in mind we take ours during the cooler months. During the warmer months this timeframe will be quicker.
While waiting for roots to develop keep the perlite/ peat moss mix moist. But don't over do it. Waterlogged cuttings will lead to rot, fungus and disease.
Avoid the temptation to remove the cuttings from the mix. If you feel the urge to check on them lift up the tray.
Once you notice a consistent amount of roots along the bottom of the tray, the cuttings are ready for potting.
Potting
Always use a good quality potting mix.
Plenty of organic material and trace elements. Don't use anything with added fertiliser as it can burn the fragile roots.
For us we pot our cuttings into 50mm(2") tube pots. This saves on room as we grow them on some more before potting into larger 140mm(5.5") pots.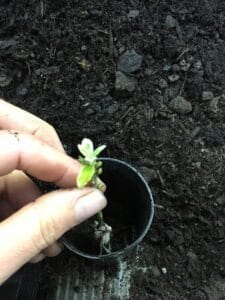 If your growing them in small numbers for yourself feel free to pot directly into a larger pot. If like us your propagating for commercial gain use small tubes.
The potting is straight forward. Place a small amount of potting mix in the bottom of the pot. Then place in the cutting and fill the pot up.
Once potted we like to water our cuttings with seasol this is a seaweed based liquid fertiliser. We find it reduces plant shock and promotes stronger healthier roots for our young plants.
Now the freshly potted cuttings need to be returned to a sheltered, well lit area. Again keep them moist.
After 2 months the root system should be quite strong and the young plants should have plenty of new growth.
They can now be moved outside and potted into larger pots or the garden.
Hopefully this article has been helpful. If so we would love it if you subscribed to our mailing list so we can share more helpful propagating tips with you.
Happy planting 🙂
Propagation tools

To view links on the products we use when propagating be sure to click on the link.
Also you can click here to see all the other plants we propagate. I think there is now over 50 articles and growing!
Oh and below is a short video/slideshow showing the above steps.
Slideshow showing above steps
Euonymus fortunei Silver Pillar
Euonymus fortunei Silver Pillar is a compact evergreen shrub. It has striking white and green variegated foliage.
Silver Pillar spindle is a great plant choice for low hedges, rockeries or shaped in to small topiary balls and dotted around the garden.
Can be grown in full sun or part shade. Grows well in many areas including poor dry soils. Responds excellent to regular pruning. Frost hardy.
Botanical name: Euonymus fortunei Silver Pillar
Common name: Silver Pillar spindle
Family: Celastraceae
Native to: Japan, Korea and China
Flowers: insignificant
Position: Full sun/ Part Shade
Height: 1m
Width: 1m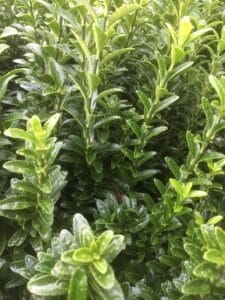 Euonymus japonicus- Dwarf Spindle Bush
Euonymus japonicus 'Microphllus'- Dwarf Japanese spindle bush is an attractive, bushy, evergreen shrub. The leaves are a deep dark glossy green.
Dwarf Japanese spindle bush is a great plant for use as a small hedge or for topiary.
Can be grown in full sun or part shade. Grows well in many areas but prefers moist well draining soil. Responds excellent to regular pruning. Frost hardy.

Cultural notes
Botanical name: Euonymus japonicus 'Microphllus'
Common name: Dwarf Japanese spindle, Evergreen spindle
Family: Celastraceae
Native to: Japan, Korea and China
Flowers: insignificant
Position: Full sun/ Part Shade
Height: 1m
Width: 1m