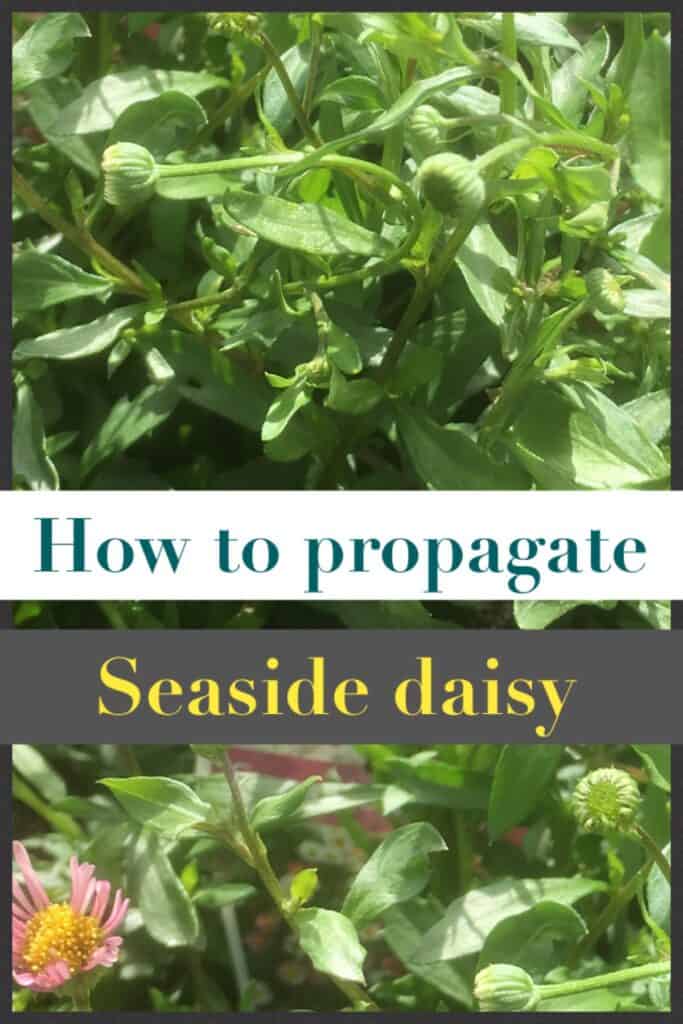 The method we use to propagate Erigeron karvinskianus – seaside daisy is cuttings. Cuttings allows us to clone a selected plant. This way we can clone the healthiest plants with the most vibrant colours, strongest growth, etc.
Select a plant
With that in mind, select a plant that is healthy and free from disease. There are quite a few different cultivars of erigeron karvinskianus and this method will work on all of them, so select one which is well suited to your local environment and has the growth habit that you desire.
To harvest the cuttings, cut off stems from the mother plant. It's best to take the cuttings anywhere from spring-autumn.
Winter cuttings will work just fine but take longer. It might also be wise to avoid summer, especially if you get extreme temperatures. (Cuttings must always be kept moist.)
We like to take the stems from close to the base of the plant, as we find that base cuttings yield the quickest results. They are also thicker and stronger than the stems nearest to the top of the plant.
Tip cuttings will also work but aren't as strong. Take your cuttings from the base of the plant, you'll want to select stems that are firm but still green.
The stems should be cut into 2-3 inch lengths.
Cut below a leaf to form the bottom part of the cutting. Strip away the bottom half of the foliage. This is where the roots will sprout (strike) from. Cuttings should look like the image below.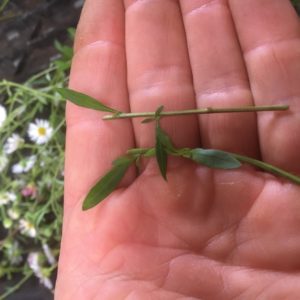 Striking the roots
To get the cuttings to strike roots, we use a perlite / peat moss mix. The perlite is sterile and has exceptional water holding capabilities. The peat moss is also excellent at holding moisture and provides a small amount of nutrients.
Simply "plug" or pot the cuttings into this or a similar cutting media. We plug ours using a small bamboo skewer to make a small hole in the mix, then insert the cutting into the hole.
Once the cuttings are in the perlite and peat moss mix we give them a thorough watering. The cuttings need to be kept moist at all times as they have no roots. A very light watering daily will suffice.
They also need a well lit position that is sheltered ie. out of direct sunlight and wind. Direct sunlight and wind will very quickly dry the cuttings out.
Erigeron seaside daisy cuttings strike fairly quickly. Obviously climate will alter timeframes but as a general rule we have good root development after 6-8 weeks.
Once the cuttings have developed a reasonable root system as pictured below they can be potted up.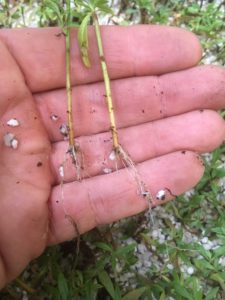 Planting
When planting the struck cuttings, use a good quality potting mix. This should be well draining and also contain essential minerals and nutrients to give these new plants a great start.
We like to plant our cuttings into a small 2″(50mm) tube. This gives them enough potting mix to get a great growth spurt whilst also being small enough to save on space.
Gently remove the cuttings from the perlite peat moss mix by tugging lighlty. Fill a pot half way and place the cutting inside, gently backfill with potting mix to the top of the pot. Place only one plant per pot.
Once all your cuttings are potted give them a thorough watering. If you desire, the plants can be watered with a seaweed based fertiliser. This can provide some extra nutrients and minerals and may help to promote root growth.
After watering, store in a sheltered position. Again, well lit and out of direct sunlight and wind. Keep moist. The plants are a little more robust now as they have roots.
It doesn't take long for the new plants to put on growth. Once the have doubled in size they can be moved out into the elements ie. wind, rain, sun.
In approximately 4-6 weeks (climate dependent) after potting, the plants should be ready for thier new home in the garden. Ensure that a solid root system has developed. If roots are coming out the bottom of the tube and are touching the sides of the pot you are good to go. If not, wait a little longer.
We hope this has been helpful. If so stick around and subscribe. Thanks for reading, Happy Planting 🙂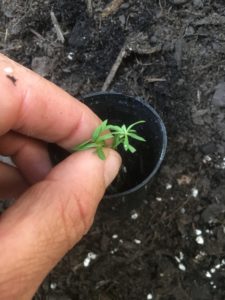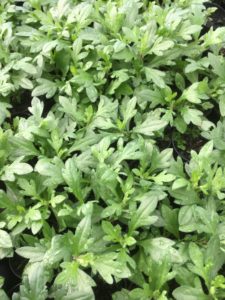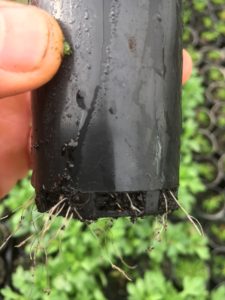 Propagation Kit
We have also put together a resource page that contains links to the products we use or similar. If you want to check that out click the link.
Propagate Erigeron Karvinskianus – Seaside Daisy. Video.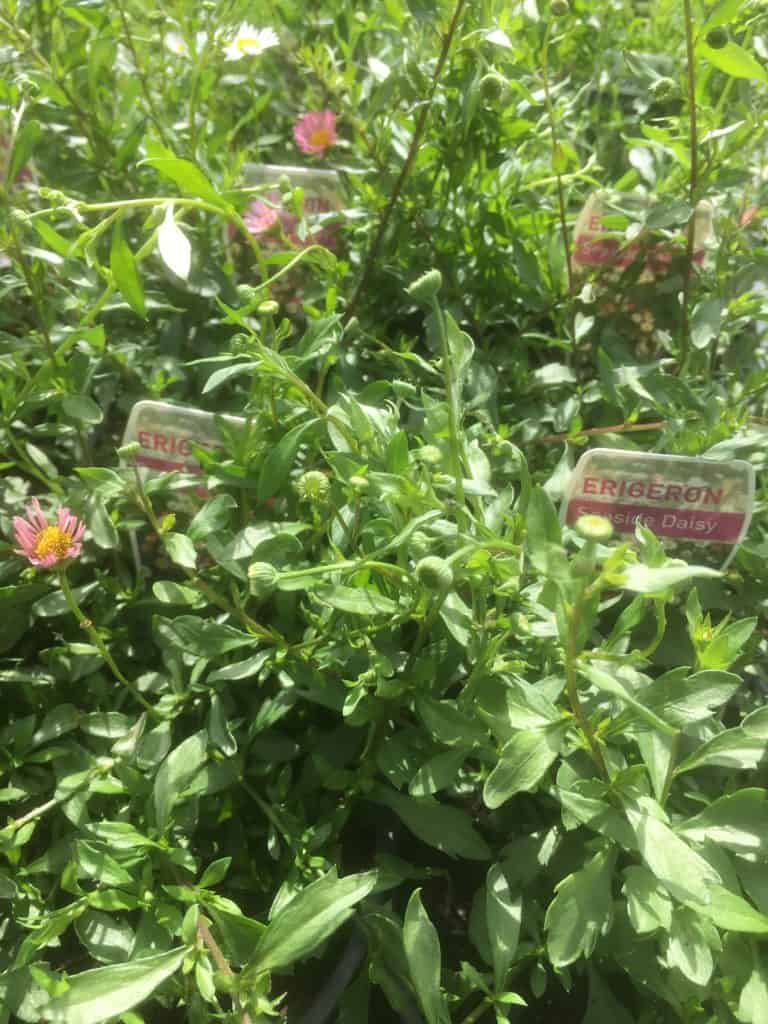 Erigeron karvinskianus-seaside daisy care
Erigeron karvinskianus seaside daisy is a vigorous ground covering perennial. It produces small daisy like flowers in pink and white tones. The flowers are produced throughout most of the year.
Seaside daisy is an obvious choice as a ground covering pop of colour, for use in cottage gardens, spilling over retaining walls, cascading out of pots or hanging baskets or edging garden paths.
A very hardy plant which grows well in most conditions. Flowers best in full sun. Plants can be cut back at anytime of year to encourage new growth and maintain a nice form.
Cultural notes
Botanical name: Erigeron karvinskianus
Common name: Seaside Daisy
Family: Asteraceae
Native to: Central America
Flowers: Spring-Autumn
Position: Full Sun/Part Shade
Height: 40cm
Width: Spreading