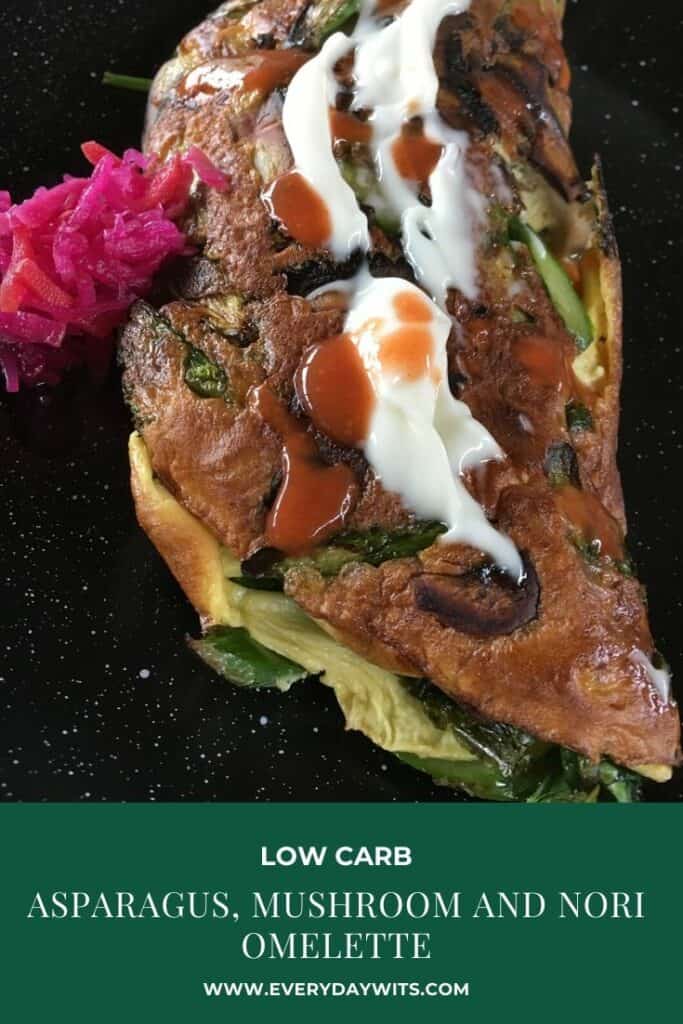 Healthy, fast and delicious…. looking for ideas for low carb breakfast's, or lunches? Look no further! This is one of my absolutely favourite lunches, it incorporates good protein, fibre and healthy fats and is ready in about 10 mins.
Asparagus is an excellent source of vitamin K and folate, which many of us don't get enough of. Add in some mushrooms which are one of the few foods to contain selenium, and top it off with a sheet of nori which gives us a good dose of iodine and sea minerals which we otherwise couldn't get from our diet. Making this quite the powerhouse of nutrition. It is very satiating on its own or you could serve it alongside a fresh salad or steamed greens.
Low carb veggie omelette
Ingredients
5

spears of asparagus

roughly chopped.

1

medium mushroom of choice

finely sliced.

2

eggs.

1- 2

Tbsp

cream

milk or milk substitute.

1

Tbsp

organic butter.

1

nori sheet.

25

g

grated cheese.

1

garlic clove

finely diced.

small handful of baby spinach.
Instructions
Prepare your ingredients and pre heat a nonstick fry pan on medium/low heat.

Place your butter into the pan and melt, when melted add in your mushroom, garlic and asparagus, stir to coat and place a lid on your saucepan.

Simmer for about 2-3 mins, lift lid and stir halfway. While that's cooking, crack your eggs into a small bowl and add cream/milk, whisk to incorporate.

Lift the lid and spread your veggies out evenly on the pan. If it needs a little more butter you can add it in at this point to stop the omelette from sticking. Pour over your egg mixture, making sure it gives an even coverage. Place lid on for about 30 seconds.

Remove lid, sprinkle with your cheese of choice, your baby spinach and place the nori sheet on top. Cover with the lid once again for about 2-3 minutes until bubbly and cooked through, with nori sheet soft.

Roll up gently using a spatula to help you and serve immediately while still warm.

Top with your choice of sauces. I like mayonnaise and hot sauce, as well as guacamole and salsa for an alternate change.
Tips.
If making for more than one person, adjust ingredients accordingly. Sauté all your veggies first, remove them from the pan then begin with pouring your egg mix, top with a portion of each ingredient, cover and cook. You should be able to make 4 in around 12 mins. Unless you get a few saucepans going.
Using coconut milk instead of cream is possibly your best alternative, I find it still puffs up the omelette like cream, other milk substitutes can also be used but with varying results or you can simply omit it altogether.
Feel free to omit the nori sheet, but it's not easy to get iodine and other trace minerals into your diet and I find this is an excellent opportunity to do so.
Use whatever vegetables are in season, but these are by far my favourite combination, especially if I can get my hands on some of the more unusual mushroom varieties.