A high protein meal which is Paleo and Whole 30 friendly, depending on what you decide to serve it over. A great recipe to add to your low carb, healthy eating recipe folder!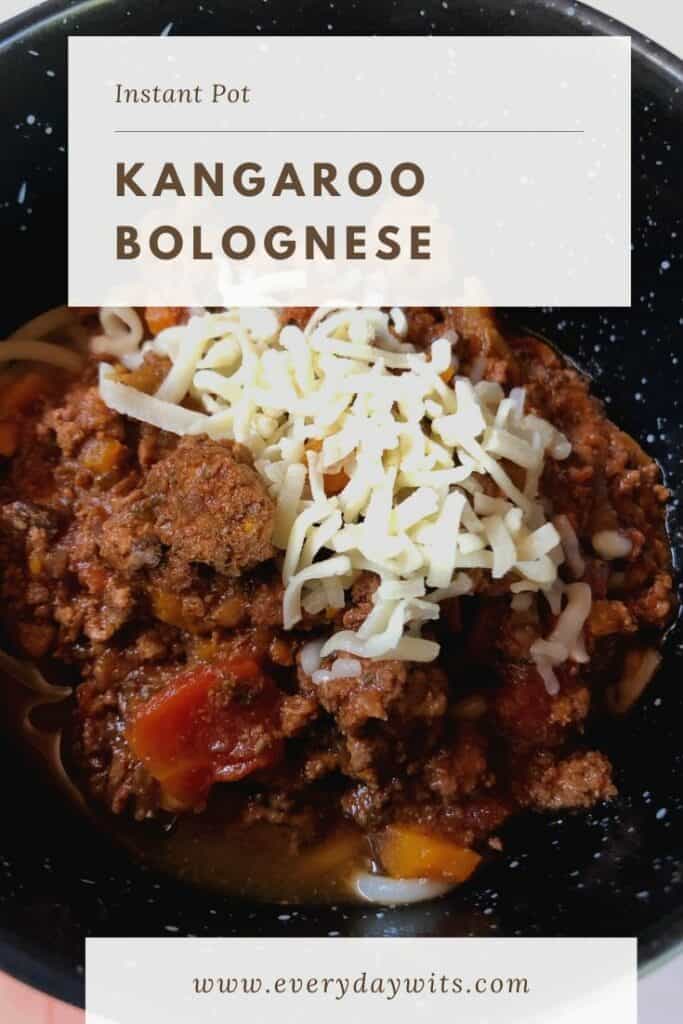 Using sustainable meat such as Kangaroo is important for our environment, but sometimes it can be tough on your teeth and hard to cook. Using it in this recipe with the Instant Pot makes it so tender, adding in a heap of herbs is a great way to neutralise the flavour a little whilst benefiting you with micronutrients.
I also like to add in some liver, completely optional, but it's such a powerhouse of nutrients and not many people will eat it on it's own. Along with the Liver is another optional ingredient, Gelatin. 
Gelatin will provide you with a wide range of amino acids as well as collagen which is needed for joint health and hair, skin and nail health. Due to Kangaroo being lean I like to add this in to balance out the nutritional profile of the dish.
Instant Pot Kangaroo Bolognese
Ingredients
1

kg

Kangaroo mince.

2

Carrots

finely diced.

2

medium onions

finely diced.

5-6

medium mushrooms

finely diced.

2

sticks celery

finely sliced.

400

g

tin organic crushed tomatoes.

250

g

Leggos organic tomato paste.

2

Tbsp

olive oil.

1-2

cups

broth.

1/2

cup

pickle juice.

1/2

cup

pineapple juice.

1

Tbsp

garlic granules

or 6 fresh cloves, crushed.

1

Tbsp

dried rosemary.

1

Tbsp

basil dried.

1

Tbsp

oregano dried.

1

Tbsp

parsley dried.

1/2

tsp

cayenne pepper.

salt and pepper to taste.

200

g

liver

minced (optional).

2

Tbsp

Gelatin Health Beef gelatin

optional
Instructions
Prepare all your vegetables. If you have a Themo mix or food processor you can roughly chop the vegetables in that, otherwise cutting by hand is just fine.

Pour your olive oil into the instant pot and add your onion and garlic, sauté until lightly browned. Add the mince, herbs and spices and liver (if using) sauté until the mince is browned.

Add your remaining ingredients. Stir to incorporate and set your pot to pressure cook for 60 minutes.

Toward the end of the cooking time, prepare your noodles. We like to use chickpea pasta for extra fibre. You could use regular organic wheat pasta or even zucchini noodles for a lower carb option.

Top with bolognese sauce once ready and sprinkle with some parmesan.
Notes
If you're a little pressed for time, it is possible to cook this for about 40 mins, but i do find the longer time makes the sauce much richer and bolder in flavour.
This dish freezes very well, it usually makes 3 portions for our family, so it's great to know I'll have 2 easy weeknight meals up my sleeve which I can utilise on busy days.
Try serving it over baked potato or sweet potato with a salad on the side.
Cook up some rice and mix it with the bolognese and stuff some peppers or zucchini for a twist.
I also use this recipe to make our Lasagne, which once again I usually make 3-4 containers, so we'll eat one and freeze the remaining portions for easy weeknight meals.