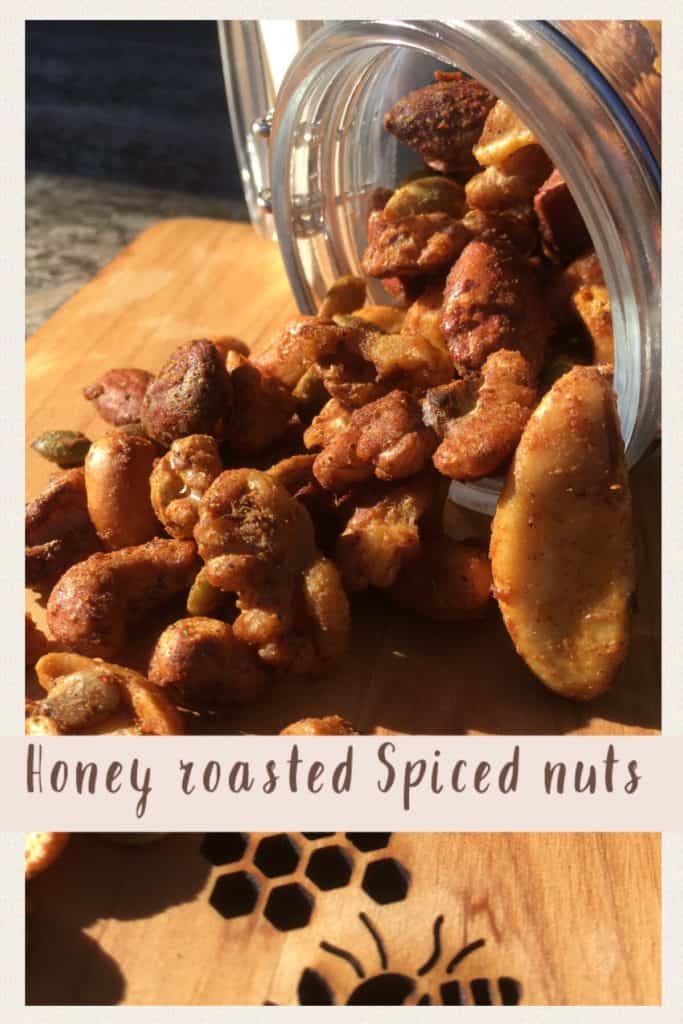 Honey roasted spiced nuts
(16 Serves)
These delicious spiced nuts are a great low carb snack, packed with loads of beneficial spices, heart healthy fats, high in fibre, antioxidants and magnesium and sweetened naturally with a little honey. They'll make the perfect addition to your next party.
Ingredients.
3 Cups mixed nuts, raw and unsalted.
1/2 cup pepitas.
1 Egg white.
1 Tbsp raw honey. (Or raw sugar if you'd prefer)
1 1/2 tsp garam masala.
1/2 tsp ground coriander.
1/2 tsp ground cumin.
1/2 tsp turmeric.
1/2 tsp cayenne pepper.
3/4 tsp salt.
1/4 tsp pepper.
Method.
Pre heat oven to 160 C.
Whisk egg whites until stiff peaks form.
Fold through the spices.
Add the nuts and seeds, fold through. 
Drizzle over the raw honey, stir to incorporate, then spread the mixture out on to a large baking tray lined with baking paper.
Bake for 10 mins, turn nuts, bake another 10 mins, turn nuts again, then bake for a further 10 mins, watching towards the end to make sure they don't burn.
Let cool before storing in an air tight container for 2-3 weeks.
Notes.
These would make great little gift ideas for family and friends.
They're an excellent choice for those on a low carb diet.
I found that 1tbsp of honey provided enough sweetness to suit our palate, but if you aren't worried about sugar, you could add a little more to suit your taste.
They are perfectly spiced, not too hot, even the littlies enjoyed these!
Nutritional Information
(Per Serving)(Approx.)
158 Calories 661 kJs
13g Fat   6g Carbs   5g Protein