Spice up your boring beef taco's with this chicken and lentil version, for a delicious new twist. Carrots are one of the few vegetables that actually become more bioavailable after being cooked. This means that more of their nutrients are made available to our bodies for use. I don't have a lot of recipes which include cooked carrots, so hence the creation of this one.
I've added lentils for extra fibre and to minimise the use of animal protein. It helps to stretch your budget a bit further, not to mention giving you an extra dose of vegetables for the day. Which many of us don't eat the required amount. Fibre is important for gut health, and it also helps to keep you feeling fuller for longer, which may hep you fend of the midnight munchies!
I'll be honest with you, we haven't had taco's much in this household but the kids kept requesting them, so I thought I'd better get onto creating a recipe which I could be happy with serving up to them.
Finding the right taco shells for me was my main concern, this was the original reason I'd switched to creating taco bowls instead. I'd been able to find corn chips that are GMO free and cooked in coconut oil, so I was happy to buy them and serve them to my family.
I have a bit of a no go zone on vegetable oils for many reasons, but the short story is: their manufacturing process, the fact that they are mostly all GM crops and heavily sprayed with glyphosate, and lastly due to their high Omega 6 content. The Western Diet has increased our Omega 6 ratios substantially and our body doesn't support it. So I simply try and avoid these oils as much as possible.
However, I recently discovered that high oleic sunflower oil was bred to produce higher omega 3 and not 6. With that information in light I decided to give my kids the taco's for which they've been nagging me for! They are certainly not going to be a staple in our diet, but knowing that I can make them a little healthier is a great peace of mind for me. So when purchasing, always read your labels. I had to sacrifice the GMO free as I just couldn't find a viable option, but perhaps in the future they will be more readily available.
On to the recipe!! If you're still here after my little rant 😉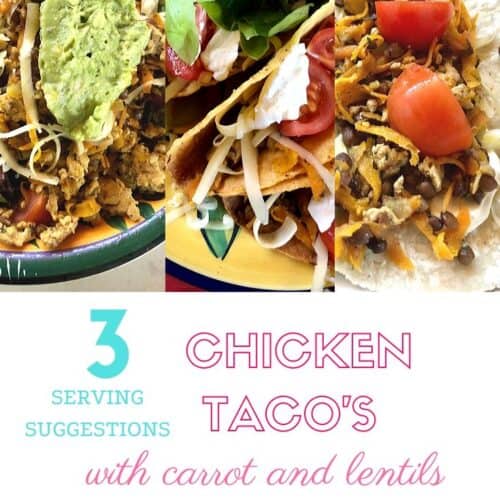 Chicken, carrot and lentil Taco's
Ingredients
Filling
2

large carrots

grated.

1

cup

of brown/black lentils

either tinned or pre soaked.

1/2

large brown onion

diced.

3

garlic cloves

crushed or grated.

250

g

organic chicken mince.

1

tsp

cumin.

1 1/2

tsp

taco seasoning.

1

tsp

dried parsley.

1/2 – 1

cup

broth/stock.

salt and pepper to season.

1/2

Tbsp

olive oil.

Old el paso original taco shells

packet of 12.
Toppings
1/2

cup

grated tasty cheese.

12

cherry tomatoes

quatered.

1

cup

lettuce leaves

roughly torn or finely shredded (your call!)

sour cream.

salsa.
Instructions
Prepare your filling ingredients.

Heat a large skillet or frypan on medium heat, add your oil, onion and garlic. Cook stirring regularly until golden brown.

Add mince, herbs and spices and cook for about 5 mins, breaking up the mince with your spoon. Once the mince is lightly browned, add the carrot, lentils and half of the broth, simmer on low-medium for around 10 minutes to really soften up the carrots. Adding more broth when necessary.

While your filling mixture is cooking, prepare your topping ingredients and start warming up your taco shells, as per the packet instructions.

Taste the filling mixture and season if needed.

Assemble your taco's! This is the fun part. You can either bring everything to the table and let people help themselves, or you can dish them up, readily made for each person. To be honest, I prefer dishing them up for everyone because then I know how much of each ingredient to use and i'm not likely to run out of anything during assembly.

My preferred layering method is: chicken mixture, cheese, tomato, salsa, sour cream and lettuce on top to hold it all in place!

Serve immediately.
Notes
My husband prefers soft taco's, so for him I use either corn tortillas or homemade spelt flour tortillas instead of taco shells.
I actually love to serve mine up over a large pile of greens tossed through with some olive oil and apple cider vinegar. Then I simply add a dollop of sour cream, salsa and guacamole on top and if I feel like a crunch, I might add a few corn chips on the side. This is certainly substantially lighter in calories bit still full of flavour and I find it very satisfying.
Pre soaking lentils, If you would like to soak your own lentils, remember to do this the night before you're going to cook these. About 1/3 cup of dry lentils will yield 1 cup once soaked. Honestly, when I go to the effort of soaking or pressure cooking legumes I like to do large batches and then store them in containers in the freezer, ready to pull out for the next time I'm going to need them.
Simply rinse your lentils, top with water covering them at least a couple of inches and add a little lemon juice. Soak them overnight, rinse them the following morning, drain and store in a container for use that evening.