All the plants on this list are really easy to grow. They will provide an abundance of flowers different times of the year, so the bees will always have a reason to visit your garden.
Many are ground covers but some are small shrubs. All are perfect for small gardens or planted in mass in larger gardens.
If you would like to learn how to propagate these and other plants be sure to check out our propagation page.
So without further ado…. Heres the list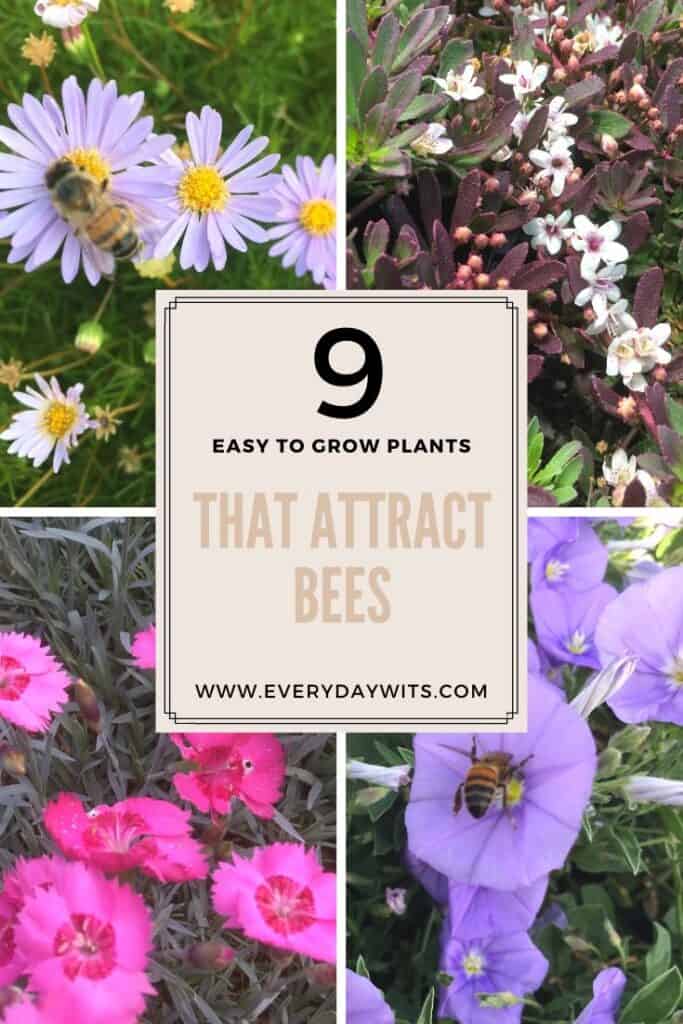 Scaevola
Scaevola's are a great plant. The particular variety we are recommending here is scaevola albida "mauve clusters". This is a perennial ground cover variety. Its an Australian native, super tough and looks amazing.
Even you black thumbs out there should have no troubles growing scaevola mauve clusters. You could grow it in a pot or hanging basket, but it does best in the ground. Looks especially great in rock gardens or spilling over a low retaining wall.
This thing flowers almost all year round making it perfect for attracting bees! In summer it's almost completely covered in beautiful, small mauve flowers.
Maintenance is really easy one hard prune once a year. Don't be shy it's really tough. We prefer to prune it in late winter or early spring. If you live in an area with heavy frosts, wait until after the last frost.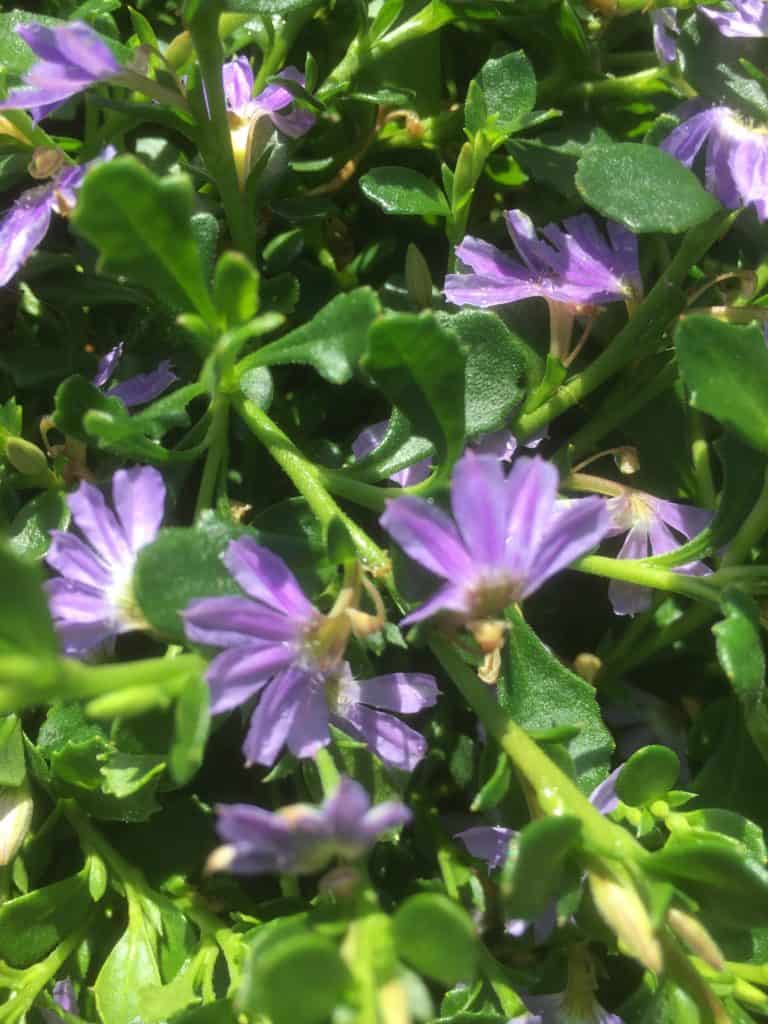 Cultural notes
Botanical name: Scaevola albida 'Mauve clusters'
Common name:Fan Flower
Family:Goodeniaceae
Native to: Australia
Flowers: spring-autumn
Position: Full sun/Part shade
Height: 5cm
Width:100-150cm
Gaura
Gaura's are commonly known as bees blossom or butterfly bush depends where you live. These are prolific flowerers from mid spring right up till the first frosts of winter. Bees just adore the flowers!
Gauras are perennials and will last many, many seasons. They are available in pinks, whites and even yellows. They look great as a single plant adding a splash of colour, but even better planted in mass.
Maintenance is really easy. Gauras respond incredibly well to regular pruning. We prune ours 3 times during the flowering months. Every time it's finished flowering we cut them back to a few inches above ground level. In 4-5 weeks it will be full of flowers again.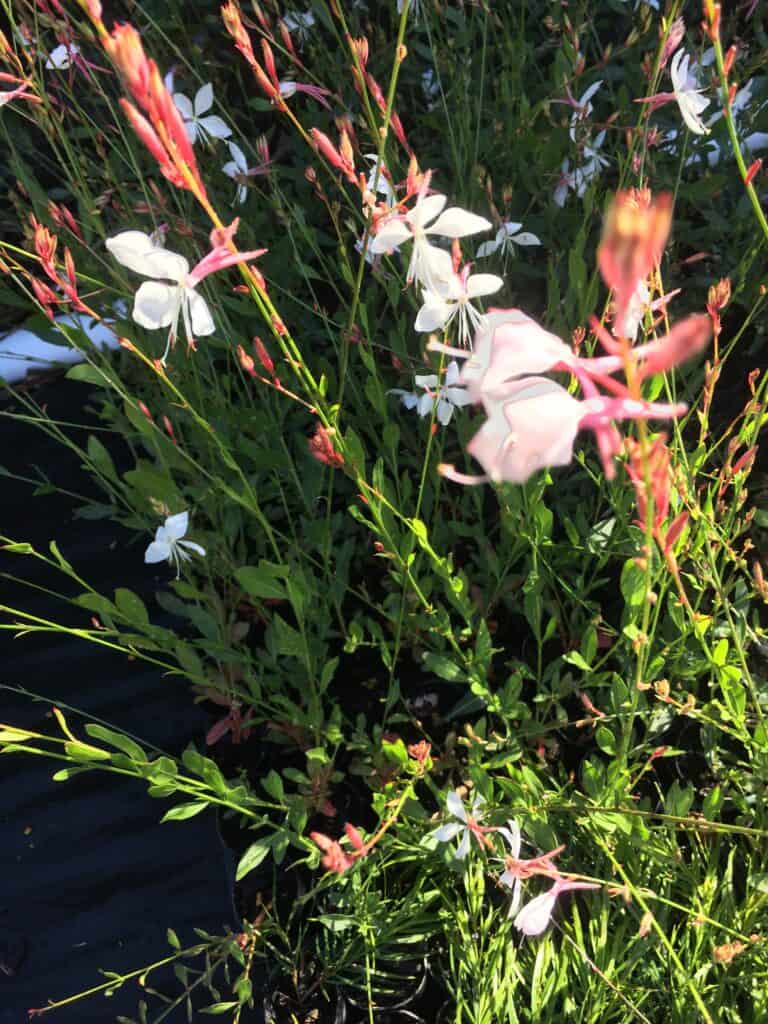 Cultural Notes
Botanical name: Gaura lindheimeri
Common name: Butterfly bush, beeblossom
Family: Onagraceae
Native to: Southern USA
Flowers: Spring-Autumn
Position: Full sun/part shade
Height: Foliage 50cm Flowers 1m
Width: 50-70cm
Erigeron
Erigeron commonly known as seaside daisy is a tough old fashioned groundcover. These plants have been around in gardens for hundreds of years and have certainly withstood the test of time.
The reason they have been around so long is they are super tough and flower reliably throuout the year. If you live in an area with only light frost this plant will provide flowers the entire year. From spring- late autumn it's jam packed with flowers.
Maintenance on seaside daisy is a prune whenever needed. Erigeron is really forgiving and you can prune as hard or a soft as the situation requires.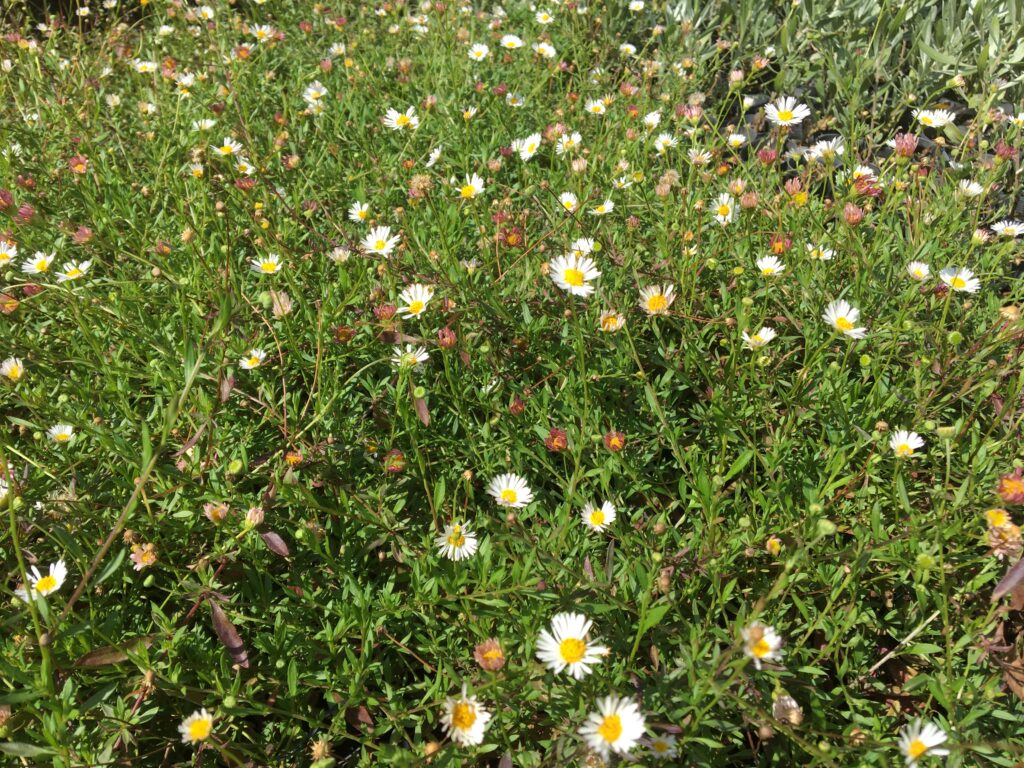 Cultural notes
Botanical name: Erigeron karvinskianus
Common name: Seaside Daisy
Family:Asteraceae
Native to: Central America
Flowers: spring-autumn
Position: Full Sun/Part Shade
Height: 40cm
Width: spreading
Brachyscome
Brachyscome grows similar to erigeron. It's an Australian native and can tolerate a wide range of soils and conditions. Brachyscome will flower practically the entire year!
You can buy brachyscome in a few different colours: Mauves, pinks and whites. Mixing the different colours in mass looks incredibly striking.
Brachyscome can be pruned anytime of year. We prune ours twice a year to keep it more compact and fresh looking.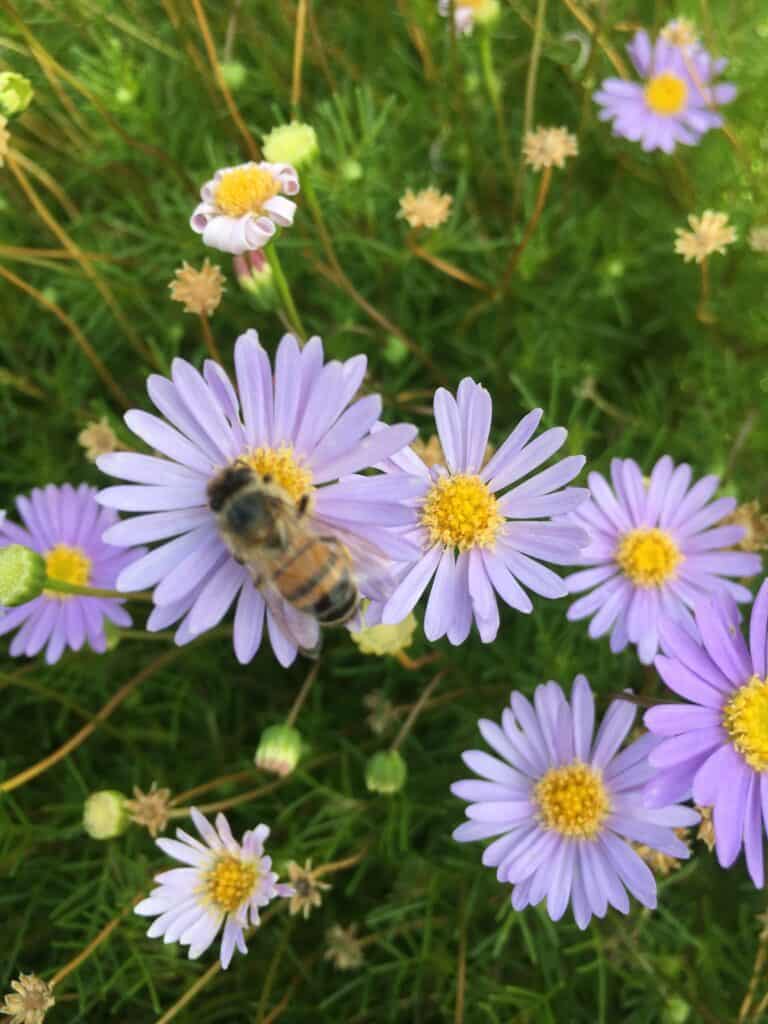 Cultural notes
Botanical name: Brachyscome multifida
Common name: Cut-leaf daisy
Family: Asteraceae
Native to: Australia
Flowers: All year
Position: Full sun/Part shade
Height: 40cm
Width: 75cm
Heuchera
Heuchera commonly called coral bells is a really attractive plant. It's very long flowering but the foliage is also very attractive. Heucheras are perennials and there are hundreds of different variations currently available for purchase.
Our heucheras flower from late winter right through till autumn. During that time the bees are frequent visitors. We have found that this is a great flowering plant for areas of the garden that are shaded in the afternoon.
Maintaining heucheras is very easy. All we do is remove the finished flower stems a couple of times during the season.
Heucheras look fantastic planted in clumps or used as a border.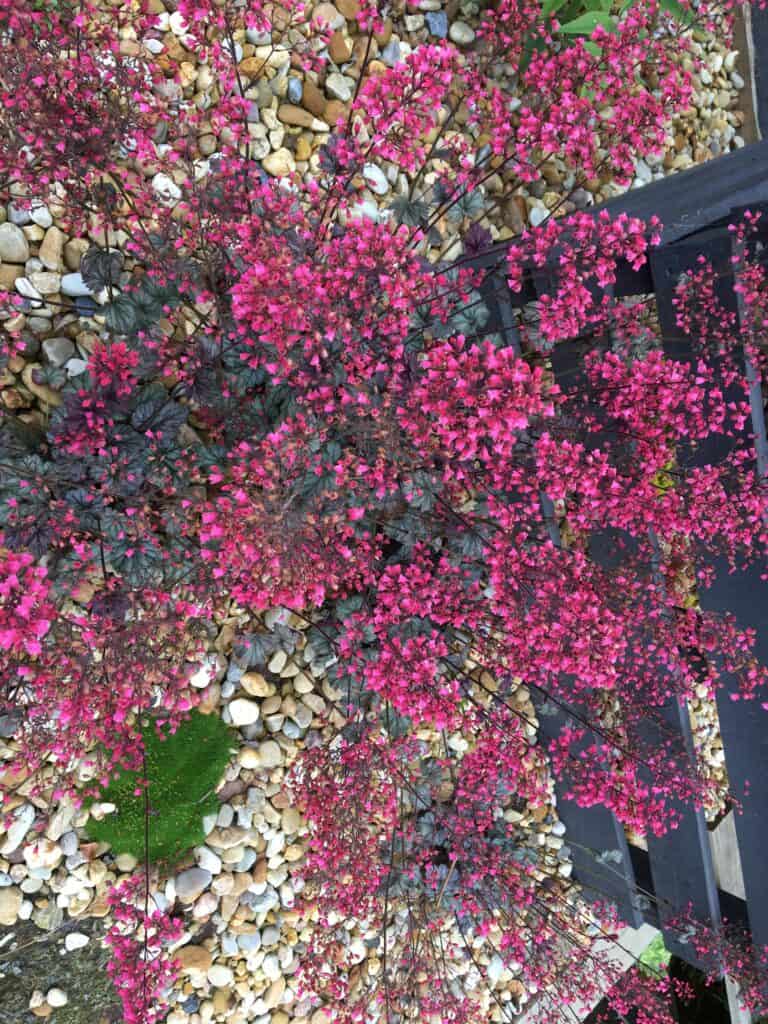 Cultural notes
Botanical name: Heuchera
Common name:Coral bells
Family: Saxifragaceae
Native to: North America
Flowers: Most of the year
Position: Full sun/Part shade/Shade
Height: 50cm
Width: 40cm
Convolvulus
The convolvulus we are talking about here is convolvulus sabatius or mauturinas depends on your region what people are calling it. This is the groundcover, blue flowering form. Again it's a perennial and has been around for ages.
These convolvulus will flower from spring to autumn. It flowers in mass! We love planting this on the edges of retaining walls. It really softens the look of high retaining walls. In small gardens placing it in a hanging basket will provide a similar effect.
Maintenance on convolvulus is a quick cutback whenever it looks a bit shabby.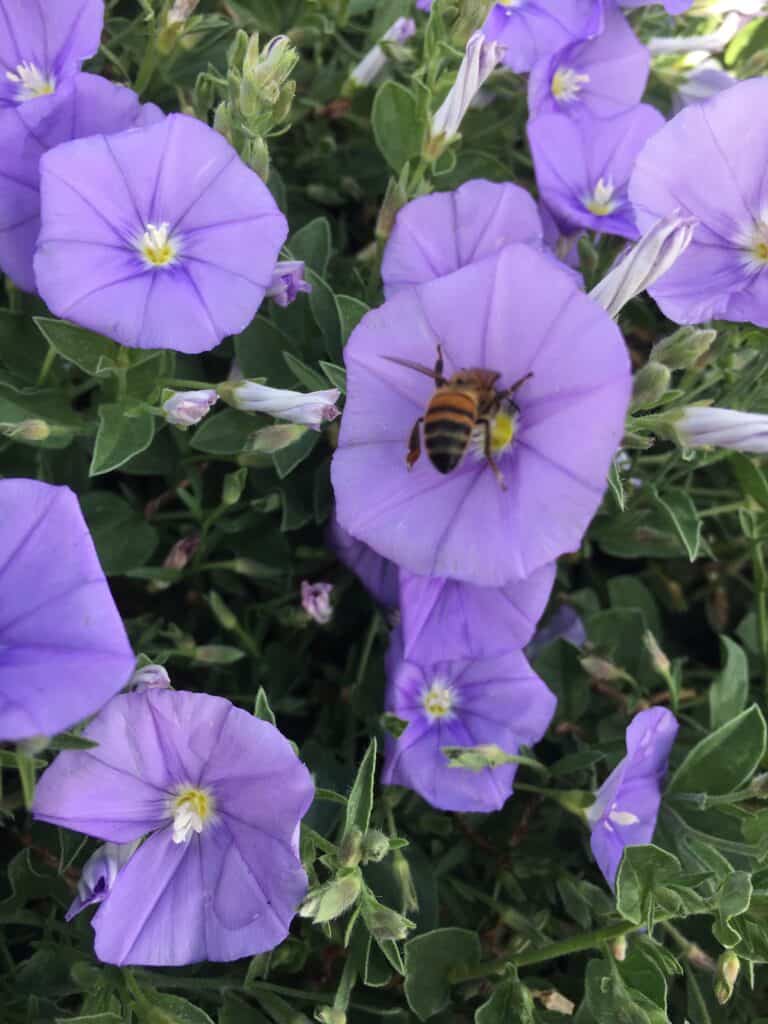 Cultural notes
Botanical name: Convolvulus sabatius (Syn C.mauritanicus)
Common name:Bindweed
Family: Convulvulaceae
Native to: Southern Europe & North Africa
Flowers: spring-autumn
Position: Full sun
Height: 10cm
Width: 100cm
Dianthus
Dianthus is another old world favourite and for good reason. They are tough as nails and have such a wide variety of colours available. We prefer to use the perennial varieties but if you like you can grow the annual varieties.
I like perennials as I'm a lazy gardener. I like to set and forget. But if your a bit more hands on using the annuals lets you mix it up each season.
Dianthus generally flower from late spring into summer. They tend to put in a fabulous show for around three months of the year. During that time the bees go bananas fur them!
Maintenance is removing the spent flowers if you can be bothered. Otherwise leave them alone and they will be fine.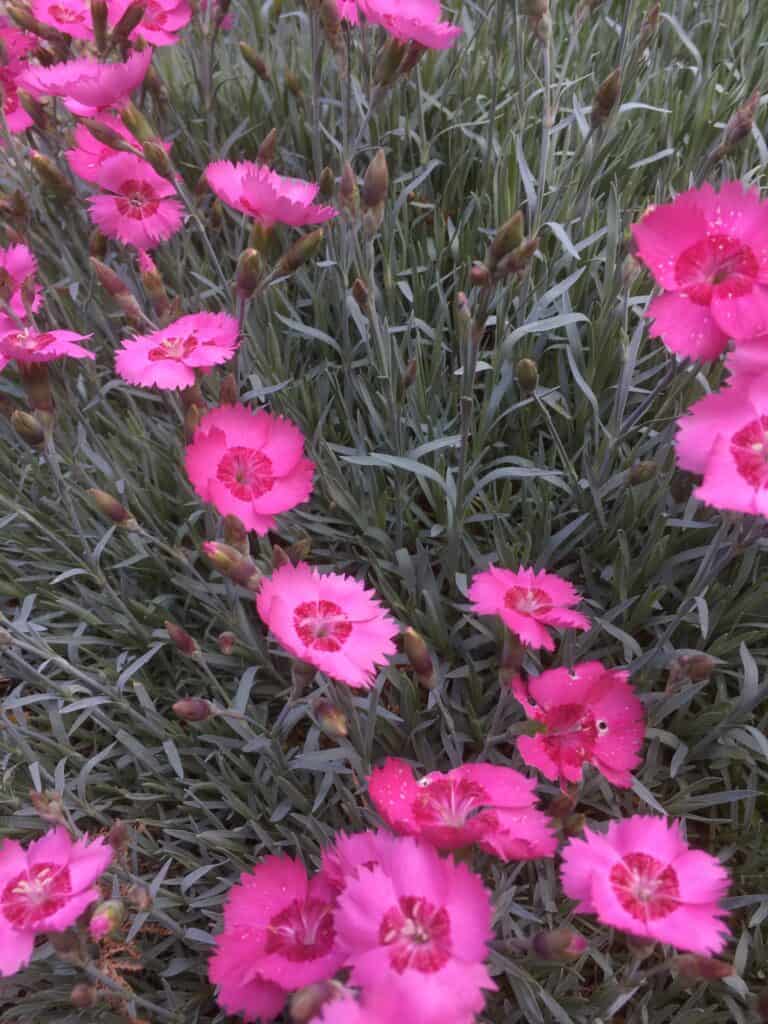 Cultural notes
Botanical name: Dianthus species
Common name: Carnation, Pink, Sweet William
Family: Caryophyllaceae
Native to: Predominantly Europe & Asia
Flowers: spring-autumn
Position: Full sun
Height: 10cm-90cm
Width: 15cm-1m
Myoprorum
Myoporum are another tough as Australian native. These are the ground cover varieties. Every summer they are drowned in tiny pollen rich flowers.
These are great for exposed banks. They are vigorous growers and one plant can easily cover a two metre square area.
There are a few colours to choose from: white, pink and purple. The purple form is my personal favourite.
Maintenance is a good hard prune after it finishes flowering. If you don't prune it after flowering it goes a bit shabby. But if you prune it your rewarded with beautiful fresh growth. The foliage is quite attractive in all the forms.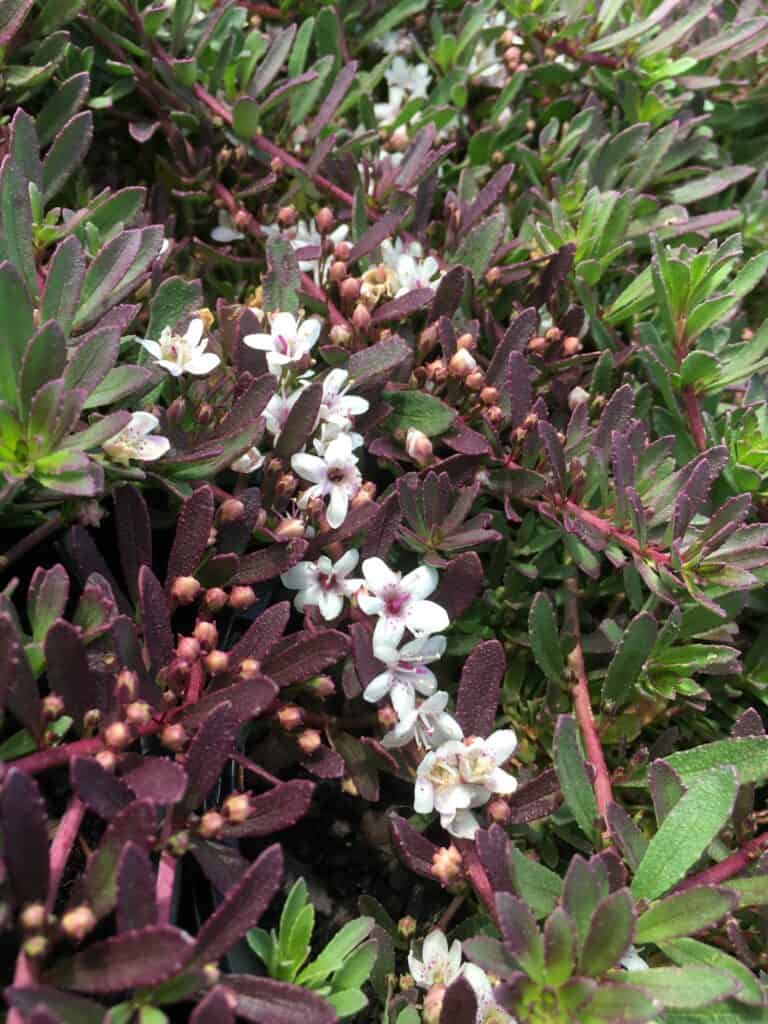 Cultural notes
Botanical name: Myoporum parvifolium
Common name: Creeping boobialla
Family: Myoporaceae
Native to: Australia
Flowers: late spring-summer
Position: Full sun/Part shade
Height: 20cm
Width: 3m
Iberis
Last in the list is a winter flowering plant iberis commonly known as candy tuft. These tough little plants flower from winter into late spring.
The white flowers provide some pollen for the bees when it might be slim pickings in the rest of the garden.
Once the flowers are finished in late spring give it a hard prune, about an inch above the ground. It will then quickly bush up and generally provide a few flowers throughout the rest of the year before putting on the main show the following winter.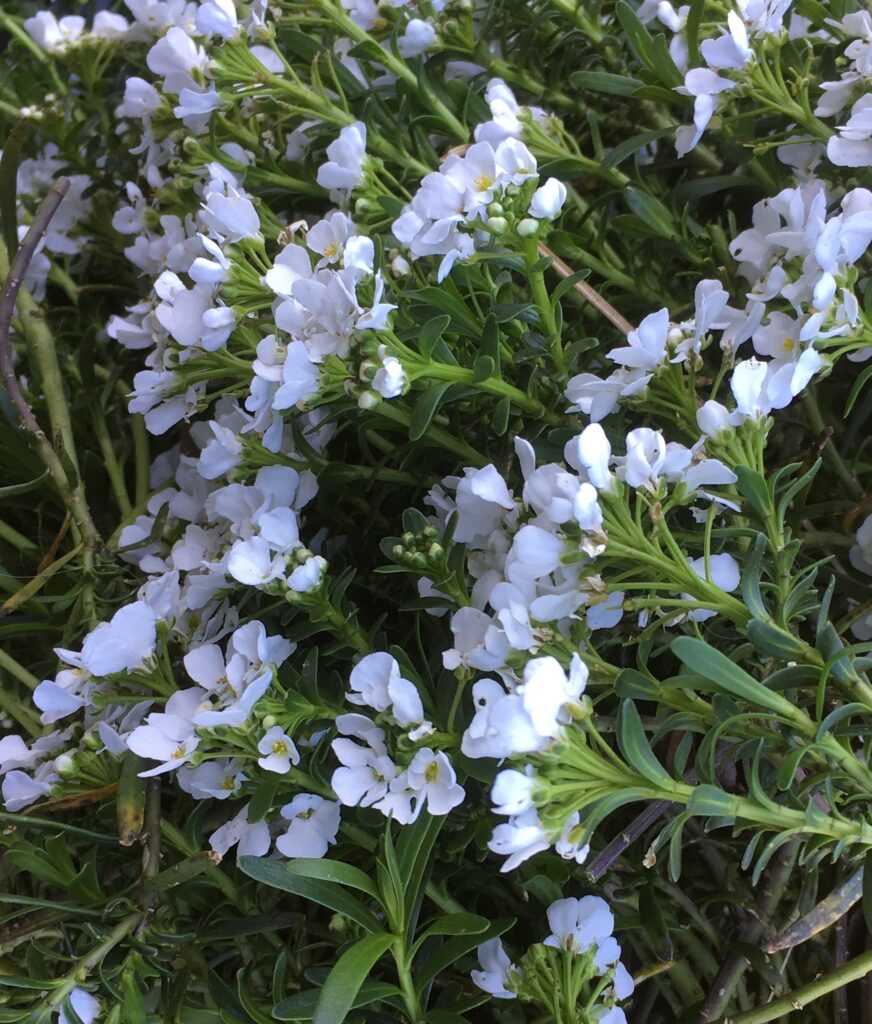 Botanical name: Iberis sempervirens
Common name: Candytuft
Family: Brassicaceae
Native to: Southern Europe
Flowers: winter-late spring
Position: Full sun/Part shade
Height: 30cm
Width: 40-50cm