Almost every garden has a spot that is always in shade. Quite often people don't know what to plant in these areas. Some just assume it's a dead zone.
Well it's not! and I'm going to list a bunch of plants that not only survive in shade but thrive in shade.
Whether your shady area is really dry or wet you'll find multiple plants on this list that will turn that shady spot into a nice little oasis!
| | |
| --- | --- |
| Plant name | Attractive characteristics |
| Clivia | Perfect for dry shade, Attractive strappy leaves, brilliant flowers in early spring. |
| Agapanthus | Very tough plant, Attractive strappy leaves, very attractive flowers. |
| Heuchera | Amazing foliage, many varieties to choose from, pretty long lived flowers. |
| Strobilanthes | Attractive foliage, changes colour with the seasons, evergreen. |
| Birds nest fern | Great for pots, brings a tropical feel to undercover areas, nice and tough. |
| Elephant ears | Another one great for pots, Does well in wet areas. |
| Helleborus | Brilliant winter flowers. |
| Liriope | Very hardy, great edging plant along borders, attractive flowers in summer. |
| Acanthus | Very unique foliage, flower spikes also very interesting. |
| Athripodium | Beautiful strappy leaves, clusters of white flowers in mass. |
| Azalea | Amazing splashes of colour, huge variety to choose from. |
| Camellia | Attractive evergreen foliage, amazing display of colour through winter, great choice of colours available. |
| Anemone | Beautiful display of autumn flowers in mass. |
| Astilbe | Incredible pops of colour, very attractive fern like foliage. |
| Tree fern | Creates a rainforest feel, amazing for forming a beautiful canopy to walk under. |
| Climbing fig | Great climbing plant, Excellent at forming a privacy screen. |
| Ivy | Another evergreen climber, more cold climate hardy. |
| Plectranthus | Wonderful soft foliage, many colours available. |
| Ajuga | Excellent ground cover, nice coloured foliage, lovely flowers. |
| Zantedeschia | Perfect for wet areas, beautiful flowers- great for cutting. |
| Hosta | Beautiful foliage, mix and match different hostas in mass for a wonderful display of foliage. |
| Hydrangea | Striking, large flowers in summer. |
| Solomon seal | Nice foliage and lovely hanging white flowers. |
| Lilly pilly | Excellent privacy shrub, can be pruned into a great hedge. |
| Sweet box | Perfect for small hedges, very fragrant winter flowers. |
| Mondo grass | Small growing, perfect for edges and borders. |
| Voilet | Lots of varieties available, nice foliage and flowers. |
| Bird of paradise | Absolutely breathtaking flowers with nice foliage. |
Clivia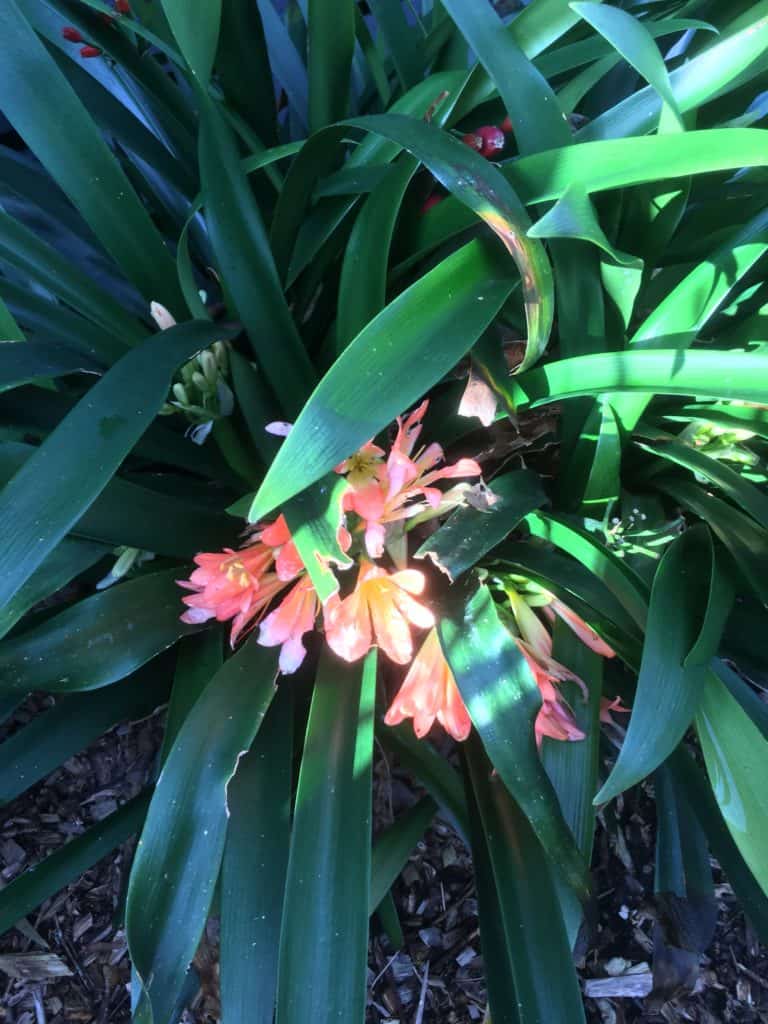 Clivias have been my favourite plant since I started in the nursery industry. It's so pretty yet so indestructible.
Clivias originally come from South Africa and are incredibly drought tolerant! They can grow in the driest of dry shade and yet somehow they look so vibrant.
The dark glossy green leaves are a feature in themselves. Come late winter- early spring clivia's will produces masses of trumpet flowers on long stems above the foliage.
Once the flowers have finished and they've been pollinated, they will ripen into berries. Over time these berries will change from green to whatever colour the flower was.
There are now quite a few different colour variations on the market with orange, cream and yellow being most common.
Clivias can be pricey to buy as they are very slow growing. If you've got the patience you might enjoy reading our guide to propagating clivia's by seed.
In summary, clivia's are perfect for shaded areas under large trees, where not much else will grow. They require no maintenance whatsoever! Just an all round winner.
Agapanthus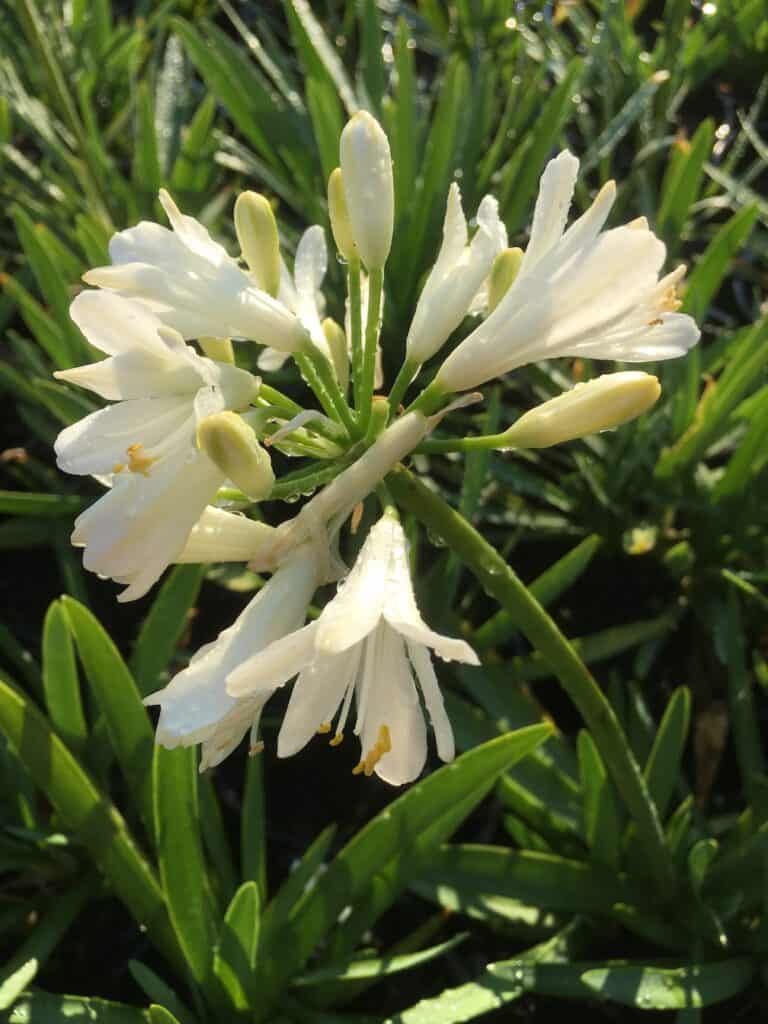 Agapanthus is another really tough South African plant. These things are tough as nails!
They form a clump of strappy leaves up to a meter by a metre. Flowers are usually blue or white, with some new varieties even being a deep dark purple. There are a few dwarf varieties available in blue and white.
Agapanthus for me are not as nice as clivia's, but sometimes you need something that's fast growing which agapanthus are. In most areas they're considered a weed, so it's ideal to remove any dead heads before they spread their seeds.
Agapanthus are also very useful as fire breaks, if you're out on land.
Heuchera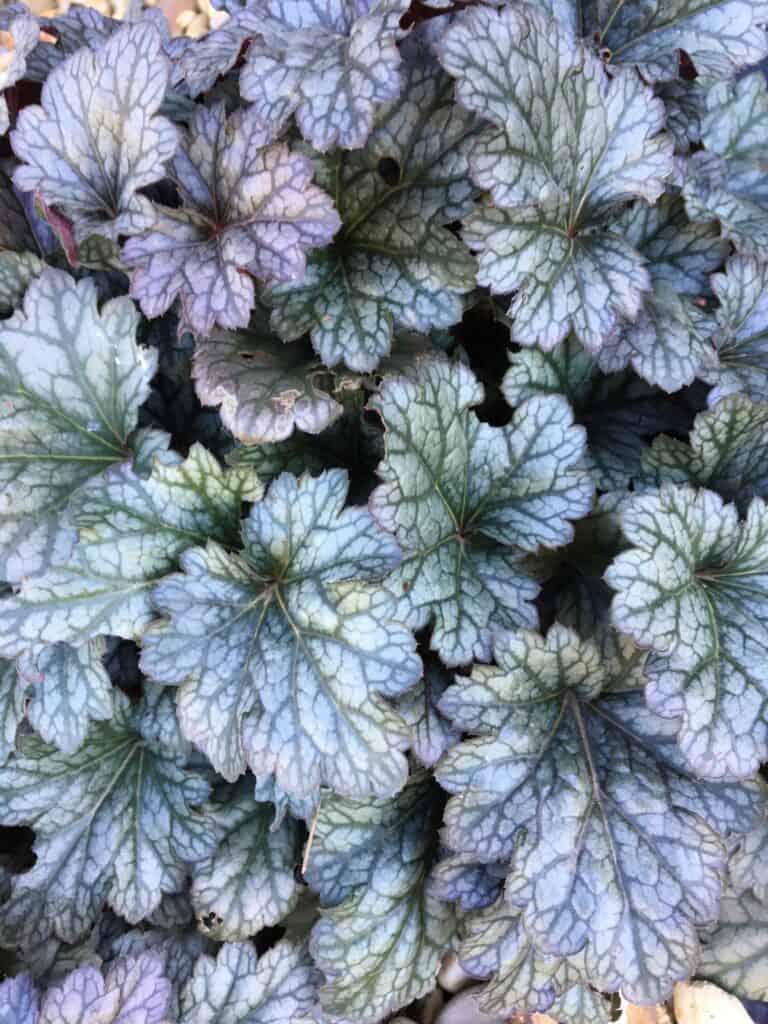 Heuchera's are great small plants for shaded sites. Over the years plant breeders have tinkered with this genus. They have come up with some truly striking foliage colours!
I like to use heuchera as an edging plant because it's quite small. I also like to use it in rock gardens. The foliage contrast always looks great!
Most heuchera's produce small dainty flowers on tall slender stems during spring.
Heucheras will require a good watering from time to time, especially if planted under large thirsty trees.
A small growing perennial only reaching 20cm or so. 35cm if you include the flower stem.
Strobilanthes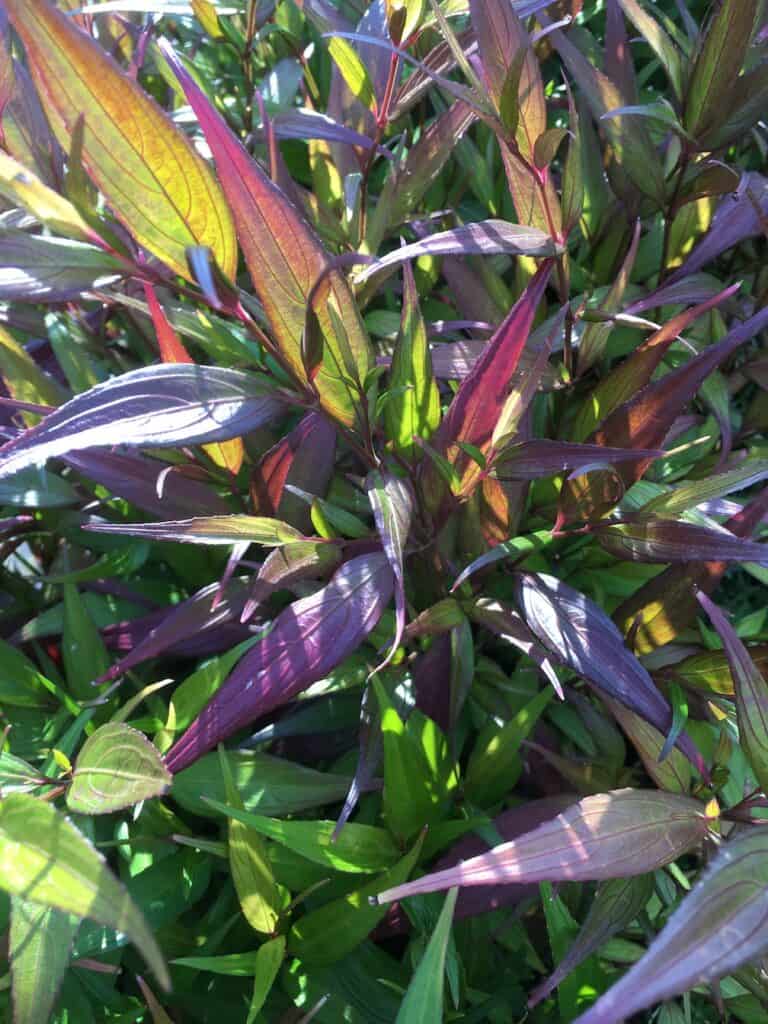 The variety we grow down here is Strobilanthes anisophyllus commonly referred to as gold fussia. This is much more cold tolerant than than strobilanthes persian shield.
In warmer climates this is grown out in full sun to part shade. However we always plant it in the shade down here in Victoria, due to the frosts.
It does really well in full shade. During winter when the nights get really cold the foliage turns a deep purple. In summer it's almost green. While during spring and autumn it's a cross between the two.
Strobilanthes are very easy to care for, just watch that it doesn't dry out over hot summers. It's a small-medium sized shrub reaching a mature height of 1m.
Birds nest fern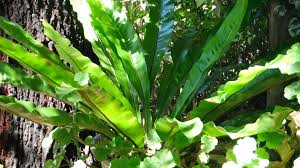 Of course most ferns will do well in the shade. I find the birds nest fern to be one of the nicest and easiest to maintain.
It can be grown in pots, which we do. We keep them under the verandah on the shaded side of the house. They love it.
They really add a lush tropical rainforest feel even down here in sunny Melbourne 😉
Elephant ears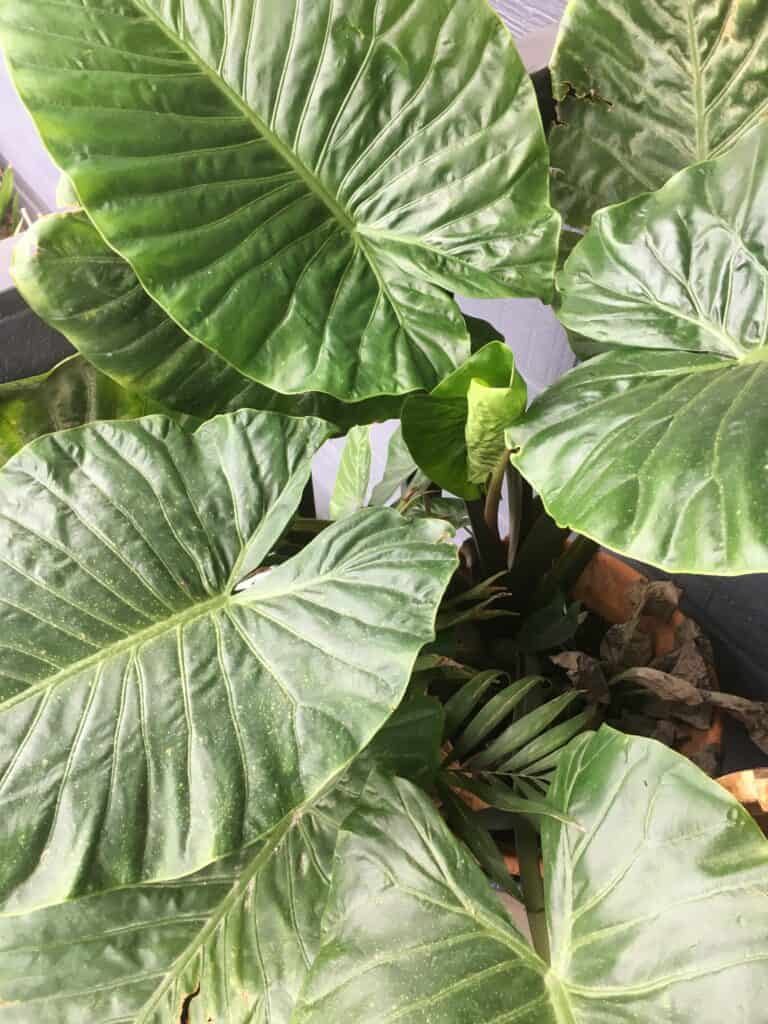 Elephant ears are another great plant for a pot in shade. In warmer climates it could be grown outside but here we need to be mindful of the frost. Although if burnt they bounce back very quickly.
We keep ours on the veranda with the birds nest ferns.
Elephants ears like their soil wet! It makes a great plant for a bog filter or even placed into a patio pond. They are so versatile though, that they can tolerate some periods of dryness.
There's a few different varieties available to have fun with.
Hellebores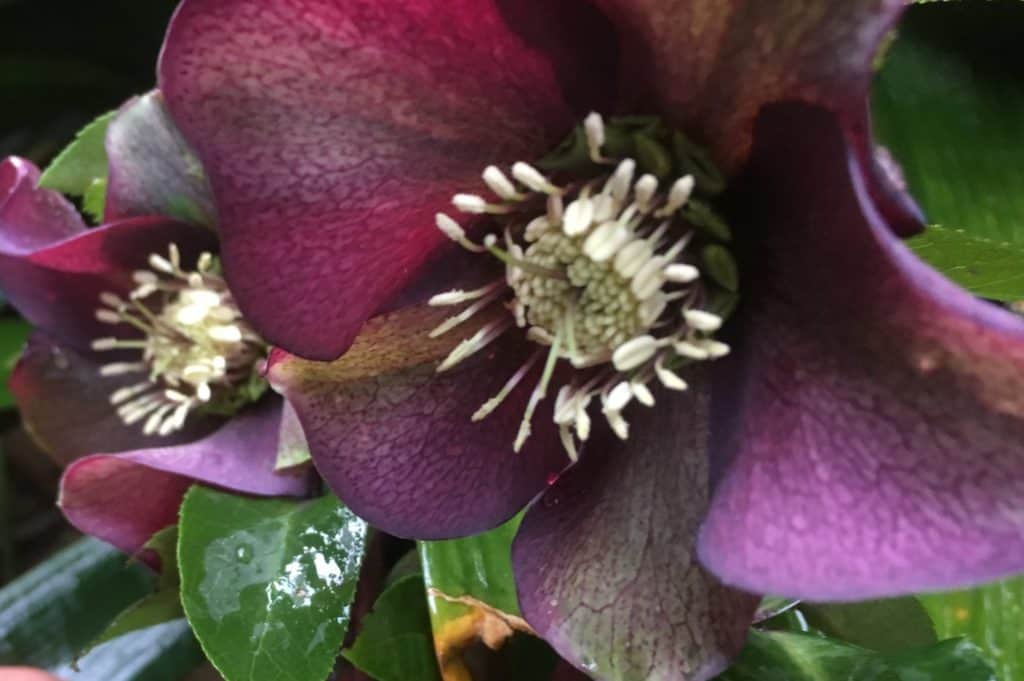 Hellebores are another favourite of mine. They will grow in deep shade and they flower in winter!
Like heuchera's, breeders have had a field day with hellebores and there is a plethora of flower colours to choose from.
Some of the specialty bred ones can be quite expensive. The plants grown from mixed seeds are always going to be much better priced but you don't know what colour you'll get.
This doesn't bother me because I feel that hellebores should be mass planted. I want to see a mix of colours anyway.
Hellebores will self seed if you leave the spent flowers. In some climates the foliage will disappear during summer but here they remain evergreen.
If the foliage does look unsightly during the summer months simply cut it off at ground level. New more attractive leaves will quickly re shoot.
Hellebores are small, only growing to about 30cm. They prefer a moist, humus rich soil.
Liriope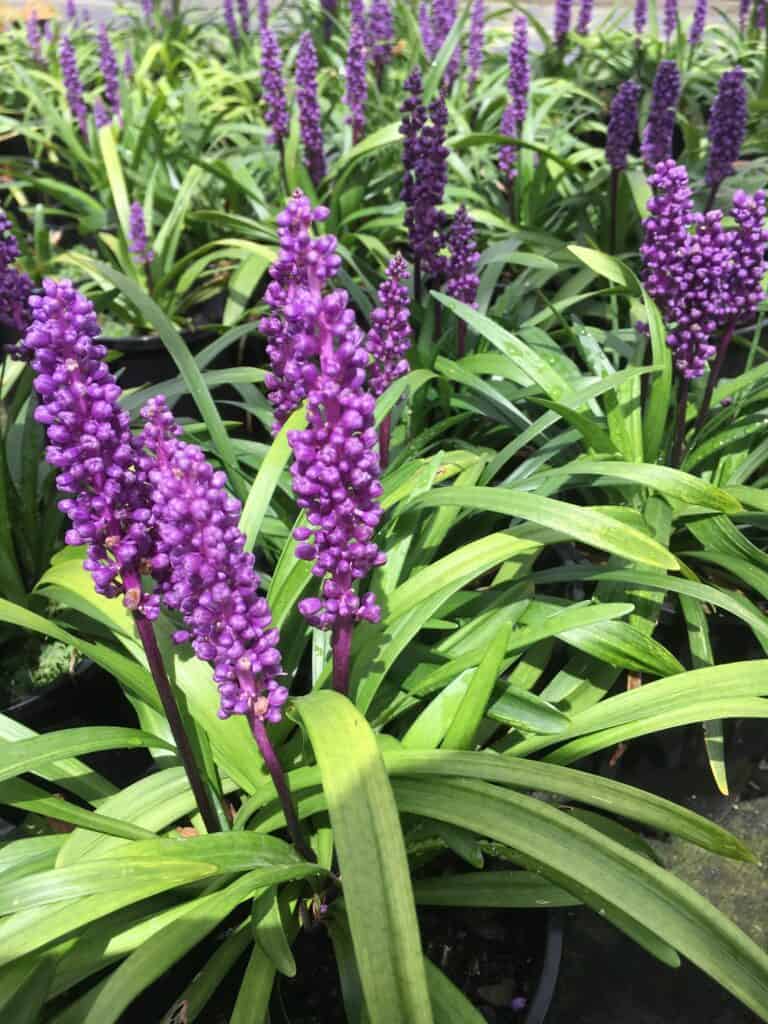 Liriope is a great little indestructible tufting plant. Most varieties have deep green foliage however there are also variegated options available.
The most common variety sold here is evergreen giant, which has mauve flowers. There are also varieties available in purple (Royal Purple), pink (Samantha) and white (Munroe white), as well as others.
Evergreen giant will stand just under a metre with some of the other varieties being smaller, Samantha about 60cm. Royal purple and Munroe white 40cm.
Liriopes are tolerant of dry conditions and are a great choice for rockery gardens.
Acanthus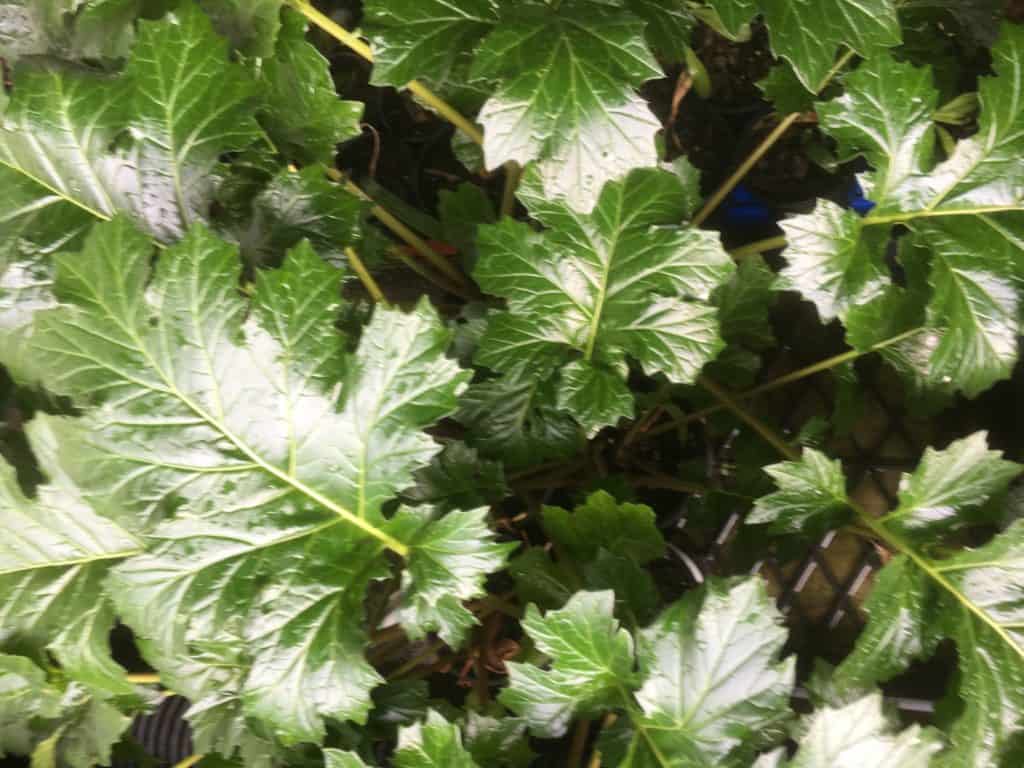 We grow acanthus mollis commonly known as oyster plant or bear's breeches. This plant looks like it's been around since the dinosaur era, it quite possibly might have!
It's got large glossy green leaves. In spring it shoots out large flower spikes that look like crazy little bugs. It really is quite an unusual plant.
The flowers last a long time but be aware they will self seed. I always cut the flowers off before the seed matures.
Acanthus will also grow from its roots, but this only seems to occur if you cut them.
I'm not trying to put you off this plant, just helping you make and informed decision. It grows to about 1-1.5m (3-5ft) by 1-1.5m. I like to use it to fill a deeply shaded are that is otherwise quite inaccessible.
It looks great as a backdrop to other plantings. Acanthus is a very strong plant and will only require extra water during the hot summer months.
Arthropodium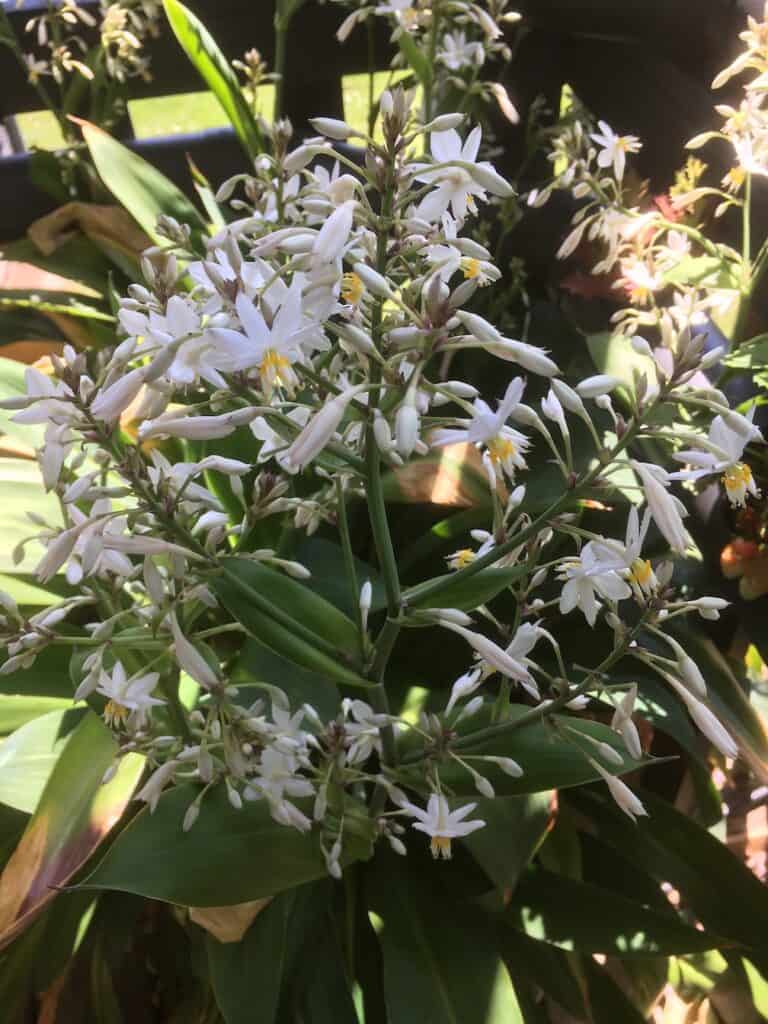 Commonly called New Zealand rock lily. This is another clumping plant. It has attractive wide green leaves. During spring into early summer it produces clusters of delicate white flowers on long shapely stems.
Arthropodiums do really well in the shade. Snails and slugs can be an issue. It's funny they love to attack our small pots in the nursery but seem to leave the large garden ones alone. I've heard that if you put some copper tape around your pot it will help keep them away.
We have used arthropodiums around our wildlife pond scattered amongst some of the left over rocks. The foliage kind of reminds me of a hosta with the bonus of being evergreen.
Azalea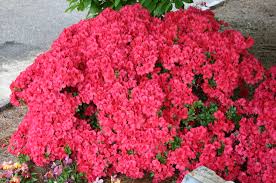 Azaleas are not something that we personally grow. I'm always tempted when I visit beautiful gardens during spring and see their vibrant colours in full show.
The brightness of the colours looks particularly spectacular in shade. The only reason we don't have them is I remember always needing to spray them frequently in my first ever nursery job.
I really dislike using chemicals and will avoid them as much as possible. I probably should try them in the garden, as I'm sure they will be less demanding once in the ground as opposed to pots.
Avoid planting azaleas in really deep shade as they may struggle to flower.
Camellia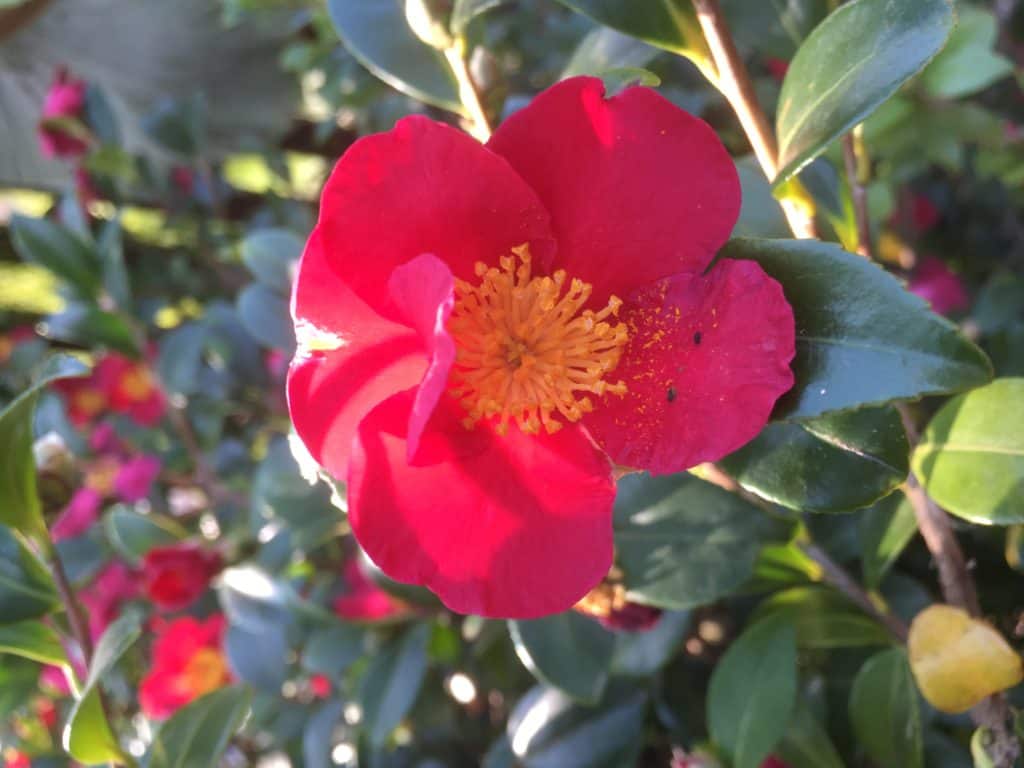 Camellias are right up there as one of my favourite plants. Camellias do really well in the shade, they're evergreen and have awesome flowers!
The glossy green leaves look great all year round. They can be pruned to any shape and height desired. Their smooth trunks are quite attractive also.
On the shaded side of our house we have camellias with clivias underneath. This combo looks great all year but particularly at the end of winter when both are flowering. It really lets me know spring is almost upon us!
Camellias are a lot more drought tolerant than people give them credit for. We never provide ours with extra water, even during drought! The only downfall for camellias is that if your soil is alkaline your camellias wont perform as well.
Anemone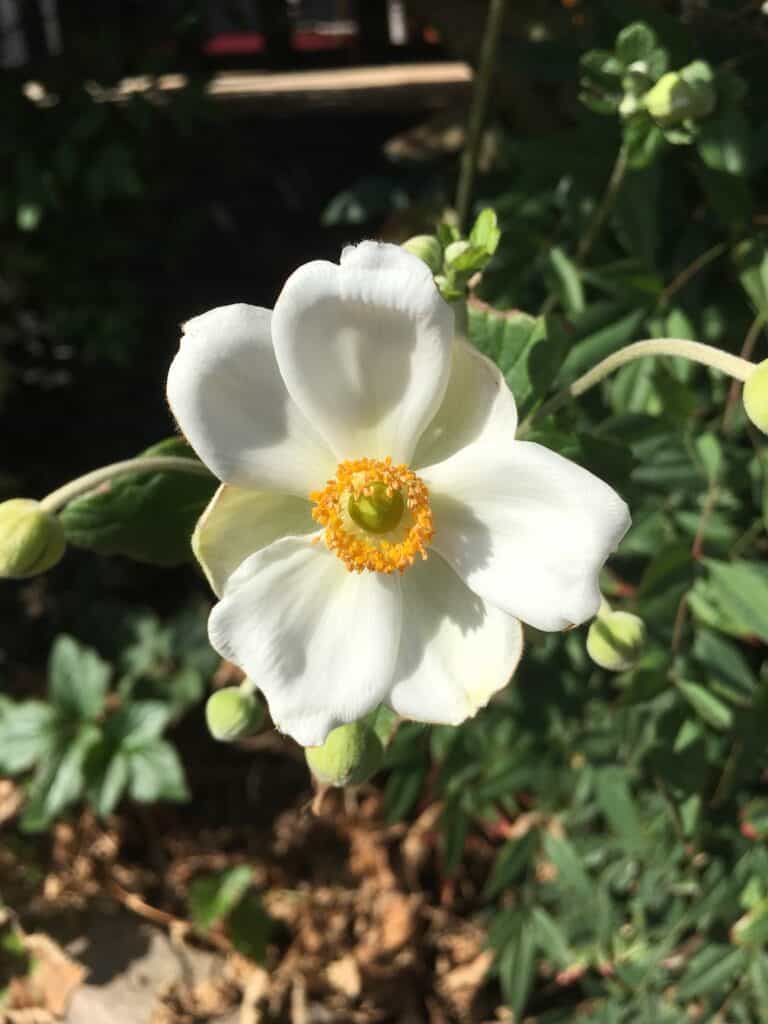 Anemones are another great little plant for shade as they are a woodland plant. The Japanese anemones are my favourite. Commonly available in pink and white flowers.
We grow ours in the garden under the Japanese maples and Sacred bamboo (Nandina). The flower is quite simple yet I'm always drawn to it, as it sways on its long stem.
Japanese anemones like a soil with plenty of organic matter hence why we have them under deciduous trees. All that leaf matter returns to the soil.
During warm weather keep the soil around them moist.
Astilbe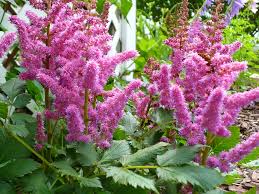 Astilbes are a delicate little plant. The foliage is soft, kind of fern like, and attractive in its own right. But the flowers, WOW I love the flowers!
Unfortunately for me, astilbes like to be looked after with regular watering. Well as I water many hours down in the nursery it's one of the last things I want to do when I come home! In order to survive in my garden, the plants need to be able to fend for themselves.
But don't let my sheer laziness put you off from trying these awesome plants. When I retire and have a smaller garden and more time, then the astilbe will have a home with me.
Keep moist!
Tree fern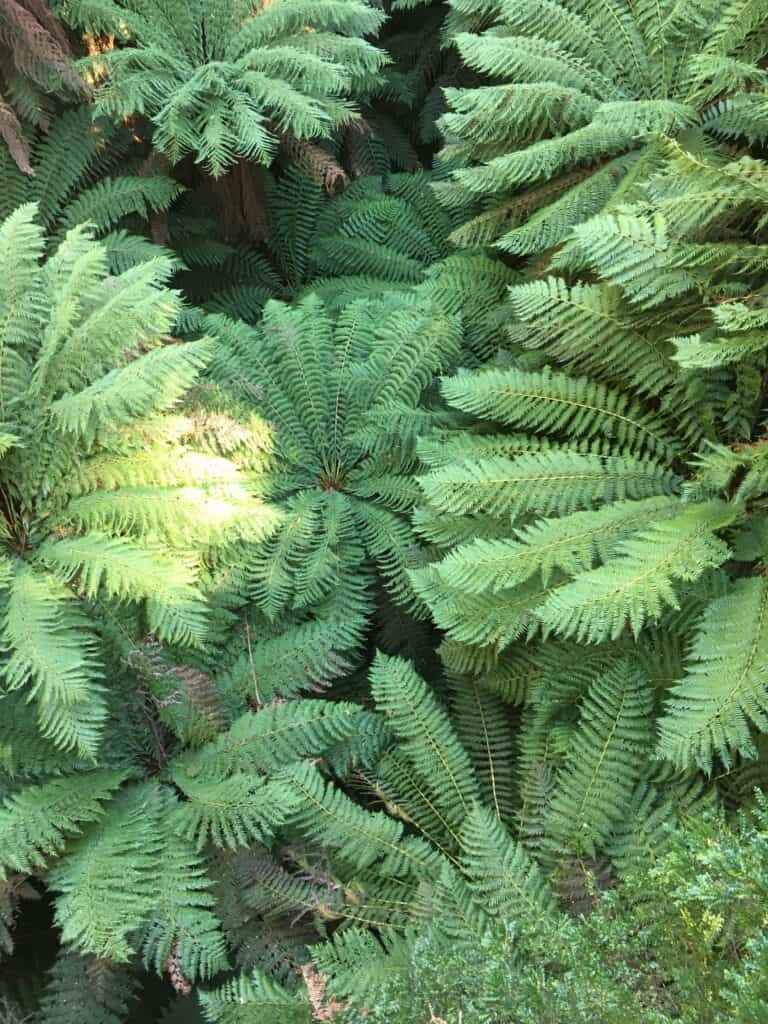 Tree ferns look great in any large shaded garden. The garden should be large as the ferns will grow very tall. Granted it will take a while.
If the ferns are exposed to sun the fronds burn and they really look terrible!
Tree ferns live in rainforests and need an adequate source of moisture all year round. When sourcing tree ferns, ensure they come from a sustainable source.
There are 2 main types grown here in Australia. The rough tree fern which cannot be transplanted by cutting the trunk and the smooth tree fern, which can be transplanted by cutting the trunk.
Climbing fig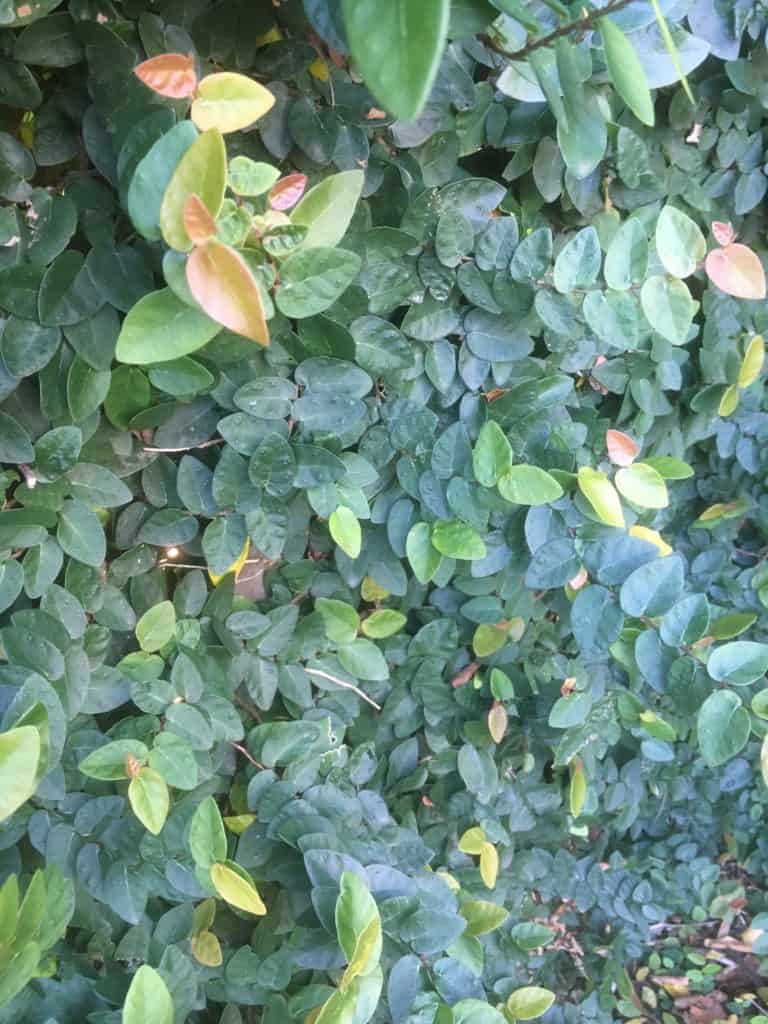 If you're looking for a climber for your shaded area then climbing fig might be the one. I really like this little beauty.
It can be used to soften up a wall in a shaded area. Climbing fig will cling onto anything! Down here it takes a little while to get going, but once it does its defiantly worth the wait.
We have used it in our courtyard where it climbed over the surrounding fence. It provides incredible privacy as well as giving the whole area a much vibrant back drop for the rest of the garden.
Once established climbing fig is really tough! Again we never give it any added water and it thrives.
Ivy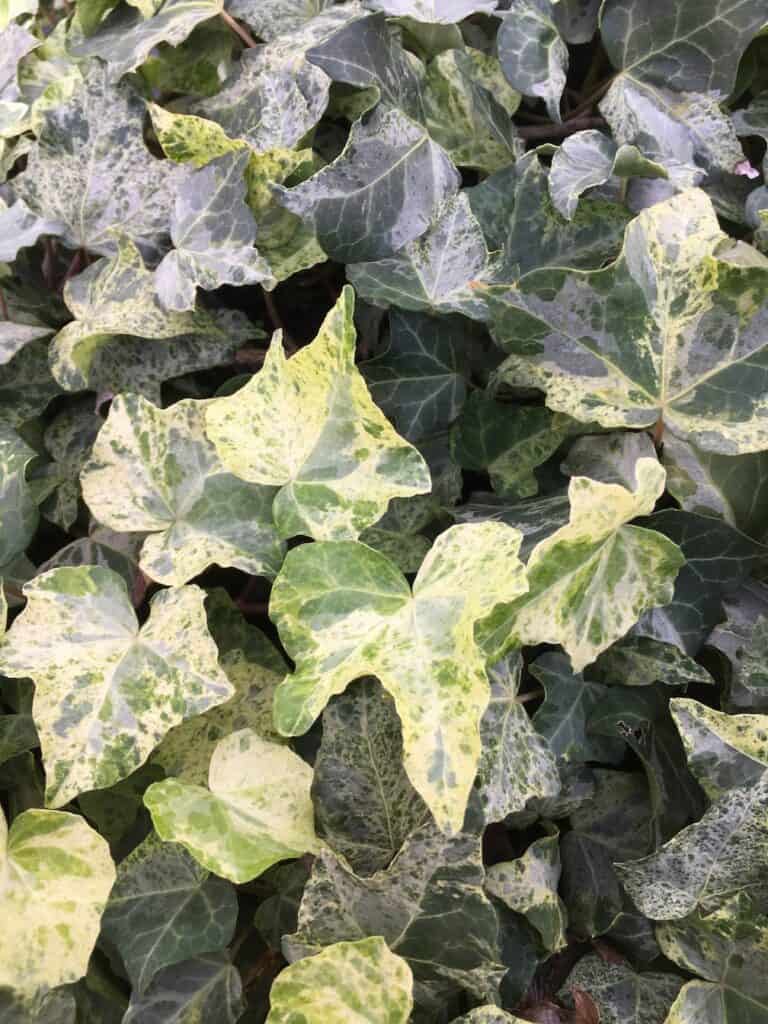 Ivy will basically do the same as climbing fig. But it is faster growing. And therefore more invasive.
Before planting ivy make sure you really want it! cause it's tough to get rid of without a strong weedkiller.
I can still picture my mum pulling it off our childhood home before painting. 10 years later you could still see the little marks where the roots had been clinging to the wall. Even through the paint!
Plectranthus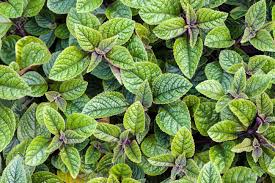 There's over 300 different species of plectranthus. Most are able to be grown in the shade. Most are grown for their attractive foliage and flowers.
We grow plectranthus oertendahlii down here in Gippsland. It has a trailing habit with green leaves on top and purple undersides. The leaves have a velvety texture.
It can be sensitive to frost but this shouldn't be a problem in a shaded area. My mother in law grows hers in hanging baskets on her patio. It also makes a fantastic ground cover.
Fast growing!
Ajuga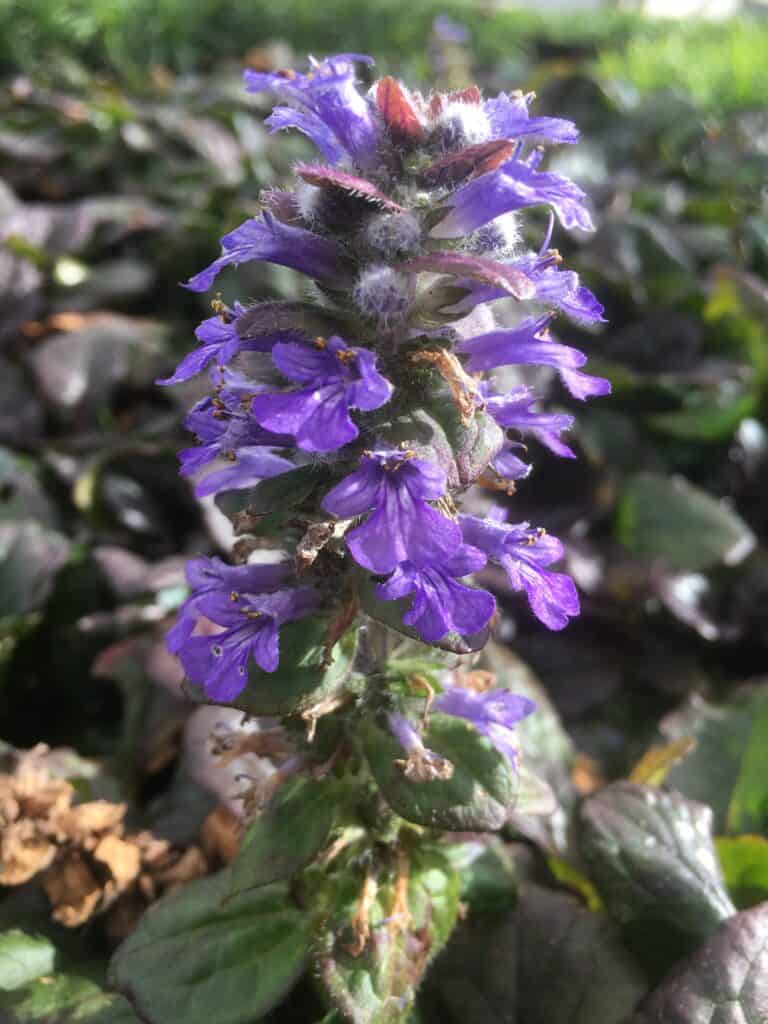 Ajuga is another ground cover well suited to shade. There are heaps of different varieties of ajuga available but I stick with my old faithfuls. Ajuga reptens 'Jungle beauty' and 'purpurea'.
We grow both these varieties in the nursery and have used them extensively in our garden. I really like to use ajuga's as a living mulch. They spread quickly and the broad leaves won't allow any light onto the ground, thus preventing any weeds.
The foliage is very attractive. 'Jungle beauty' is a striking green, while 'purpurea' has deep dark purple leaves. Both produce mauve flower spikes 10-15cm high in spring.
Ajugas are a really easy plant to propagate even for a beginner. Check out our article 3 ways to propagate ajuga.
Zantedeschia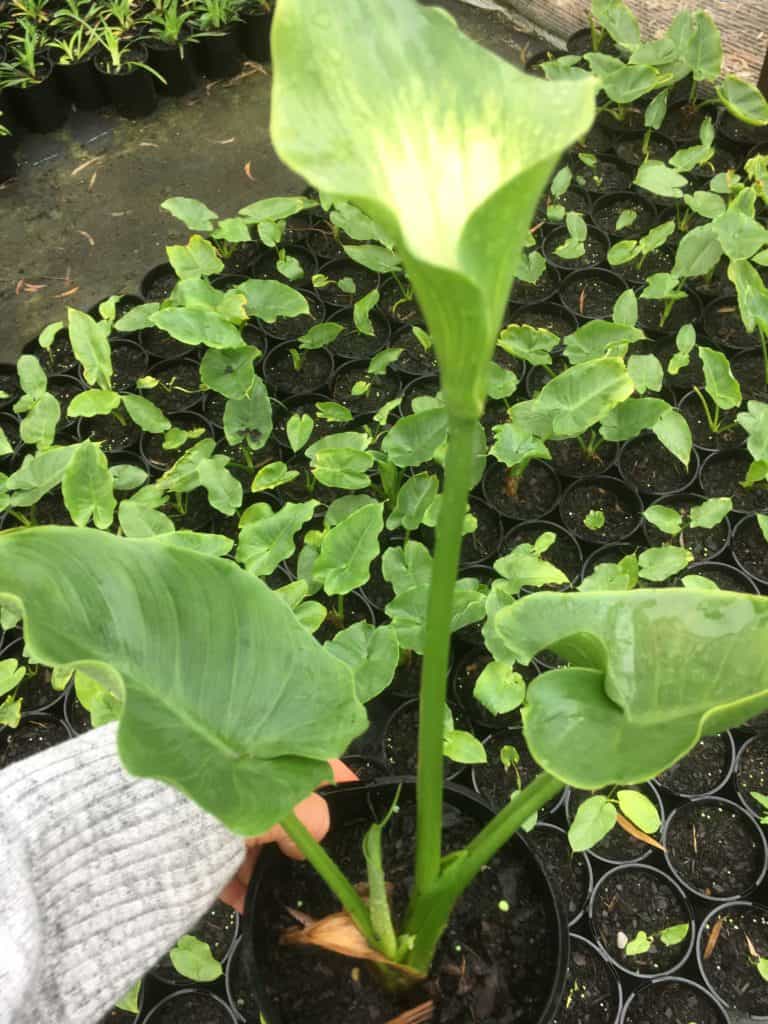 Zantedeschia's are clumping perennial's that will thrive in shade. They are perfect for a boggy area.
There are quite a few flower colours available, pinks, whites, yellows and greens. We grow a variety called 'green goddess' which is evergreen. Some varieties will die down over winter.
They can be divided to create new plants.
Hosta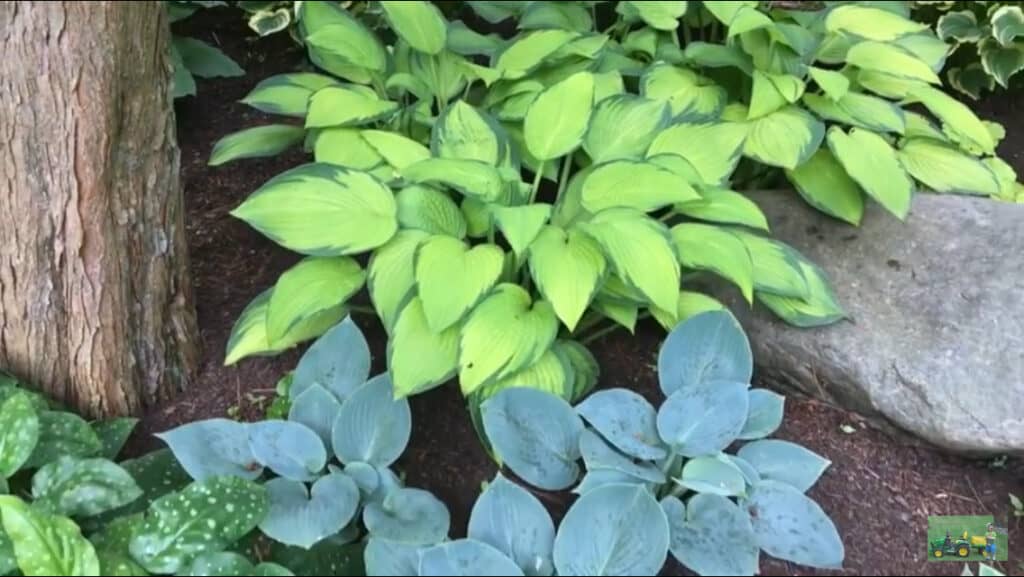 Hosta's have incredibly attractive foliage. They form clumps and shoot out flower spikes during summer. Most of the flowers are mauve.
For me it's all about the foliage. A few hosta clumps form interesting little mounds of colour and texture. The foliage can be variegated, green, grey and almost blue in colour.
They will die back over winter. Snails and slugs can be a problem. They looks especially amazing planted around a pond or stream or a border alongside a beautifully manicure lawn.
Once the shade trees establish around our garden stream we will be adding in the hostas!
Hydrangeas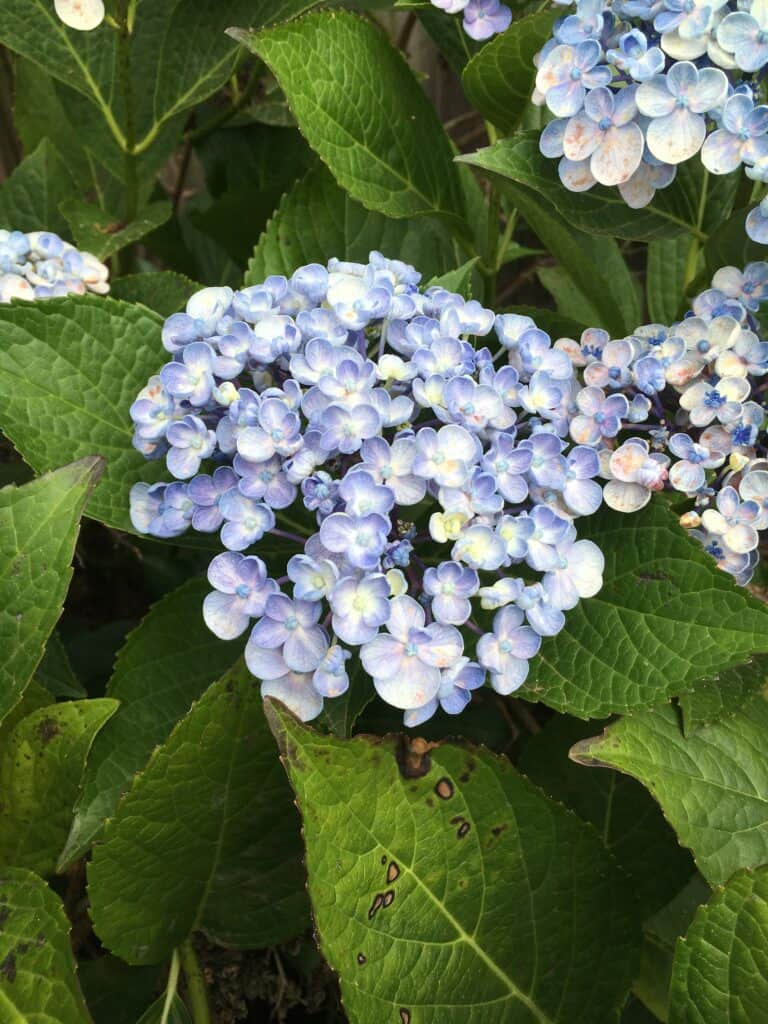 Hydrangeas are mainly grown for their beautiful flowers. However one of my favourites is the oak-leaf hydrangea (hydrangea quercifolia).
To flower best, hydrangeas will need some light. Here we plant them on the side shaded by the house.
Flower colours are white, red, pink and blue. The pink and blue varieties are actually exactly the same. It's the soil pH that will determine the colour.
Alkaline soil will produce pink hydrangeas. Acidic soil will produce blue flowers.
Solomon Seal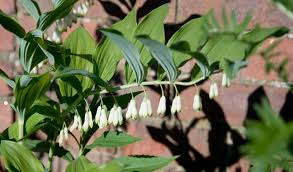 Solomon seal is a very old fashioned plant. I don't see it very often anymore and I feel that's a shame.
It has attractive long arching stems that produce lovely white bell shaped flowers. It does clump and can be divided when dormant during winter.
Solomon seal does really well even in the deepest shade.
Lilly pilly's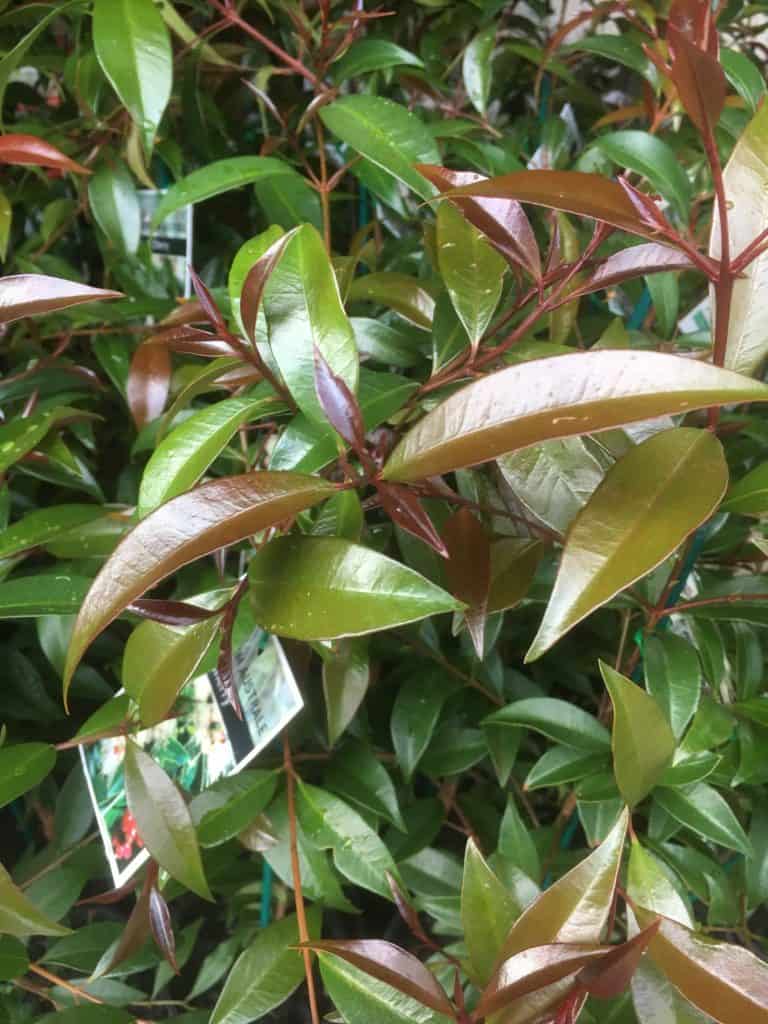 Lily pilly's are an Australian native rain forest tree. There are 3 main genus referred to as lilly pilly's. Syzygium, Waterhousea and Acmena.
All are attractive and all can be grown in the shade. These are a good choice as a privacy screen.
So a good group of plants to consider if you need some privacy and are shaded by large trees or buildings.
There are now many different variations available. Your options are very extensive.
Sweet Box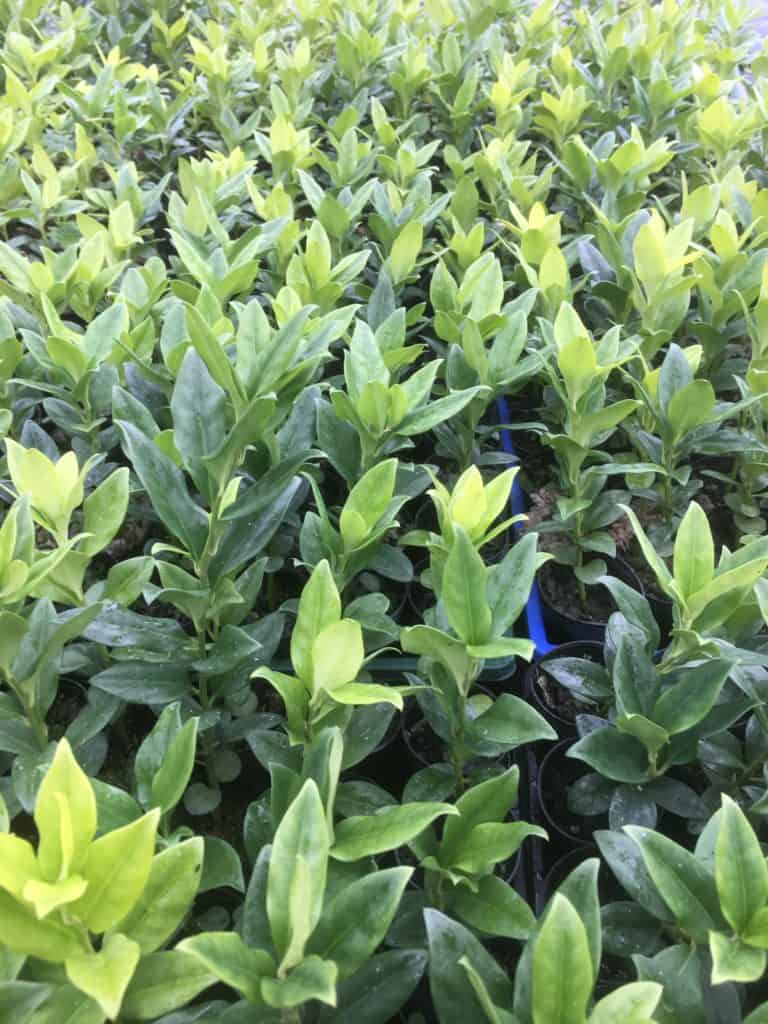 Sweet box is another option for a hedging plant in a shaded area. It will eventually grow to about 2m but I find 1-1.5m is more accurate in this climate. Therefore it's not a good choice for a privacy screen.
If privacy is desired select one of the lilly pilly's. Sweet box is far better suited to creating a hedge along a path or used as a backdrop to other plantings.
The foliage is a super glossy deep green. Flowers appear in winter and are incredibly fragrant.
Defiantly a great plant to incorporate in your shade garden.
Mondo grass
Gardens created in shade always look amazing when there is a moss covered path or stepping stones inviting us in to explore.
Mondo grass is the perfect accompaniment to such a path. Plant them along the path or use the dwarf variety in-between stones or pavers. You won't be disappointed.
Mondo's are really tough and you can get them in either black or green.
Violet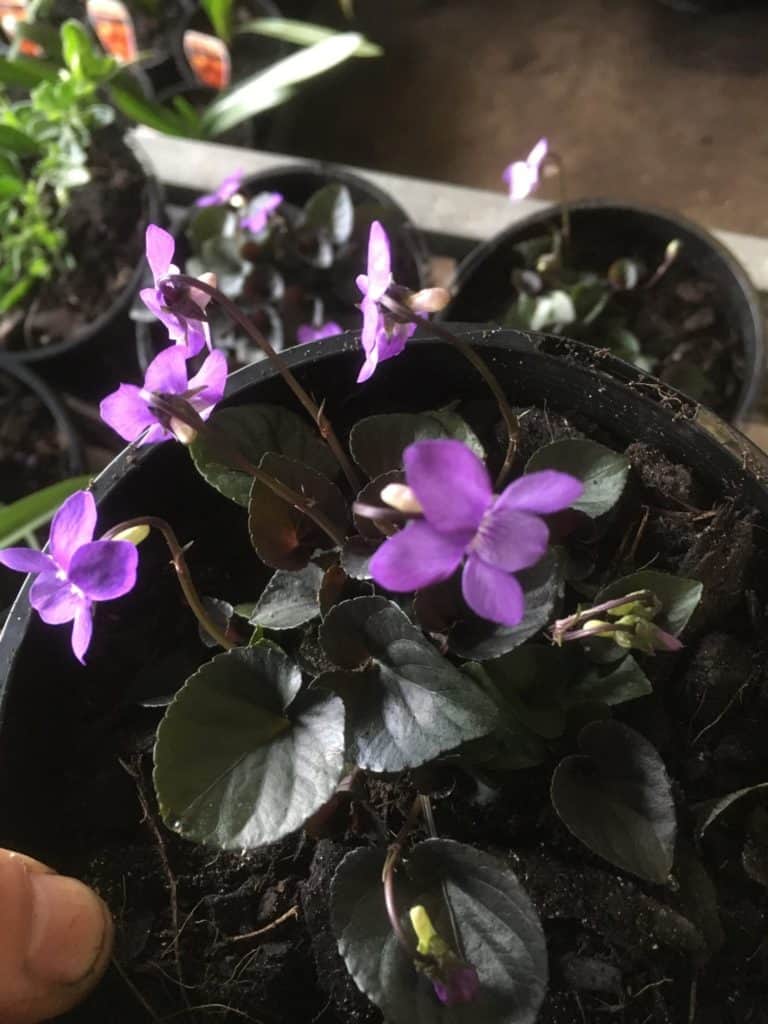 Violets are another excellent choice for framing your path or amongst stones.
There are 2 I like for our climate, native violet (Viola banksii/ hederacea) and alpine violet (Viola labradorica) both spread like wildfire. Both are really attractive.
These are tough as nails and will thrive in your shaded areas.
Bird of paradise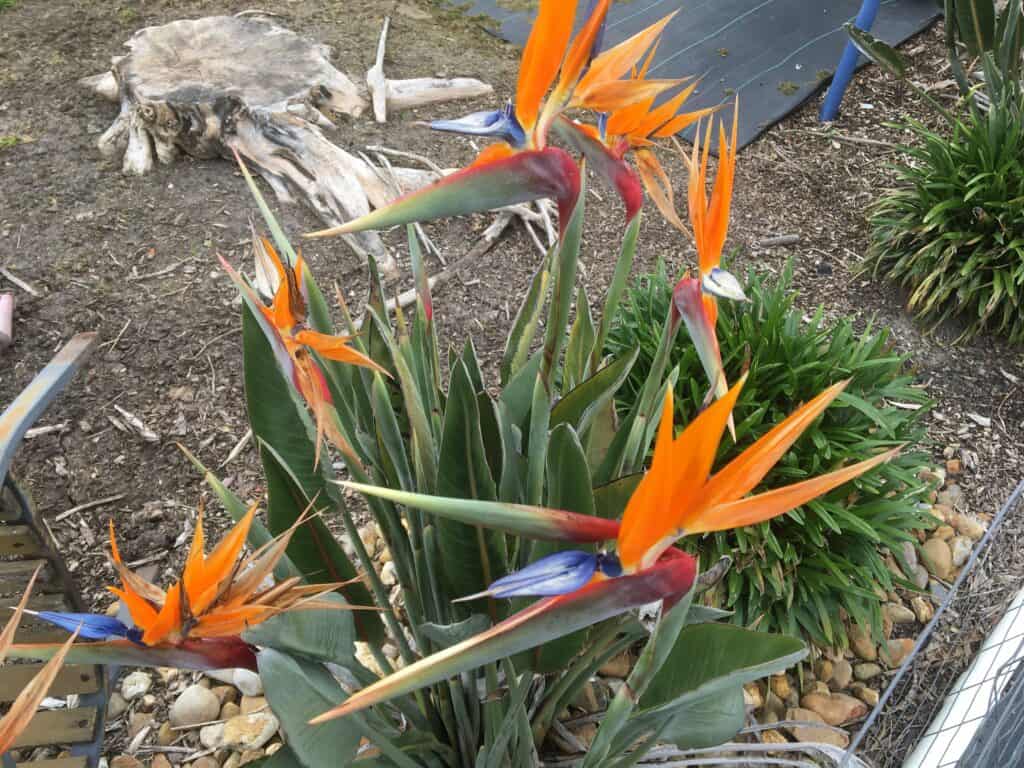 Bird of paradise have one of the most unique flowers available. They are a clumping plant with 2 main varieties grown.
Streltizia reginea is the smaller grower with the prettiest flower. Strelitzia nicolai is larger with a less attractive flower at least in my opinion.
In the topics strelitzia nicolai grows massive! Yet here in Victoria I haven't seen one over 2.5m. The overall look of the plant really does make you feel like your in a tropic location.
Strelitzia reginea really only grows to about a metre down here. It does very well in pots!
Summary
I hope this list has given you some great ideas for that shaded area of your garden. As you can see there are many options! And these are just the ones we have around our place.
If this has helped you out and you would like to stay up to date with all the things we are doing/learning please subscribe and join us.
Thanks for reading and happy planting:)