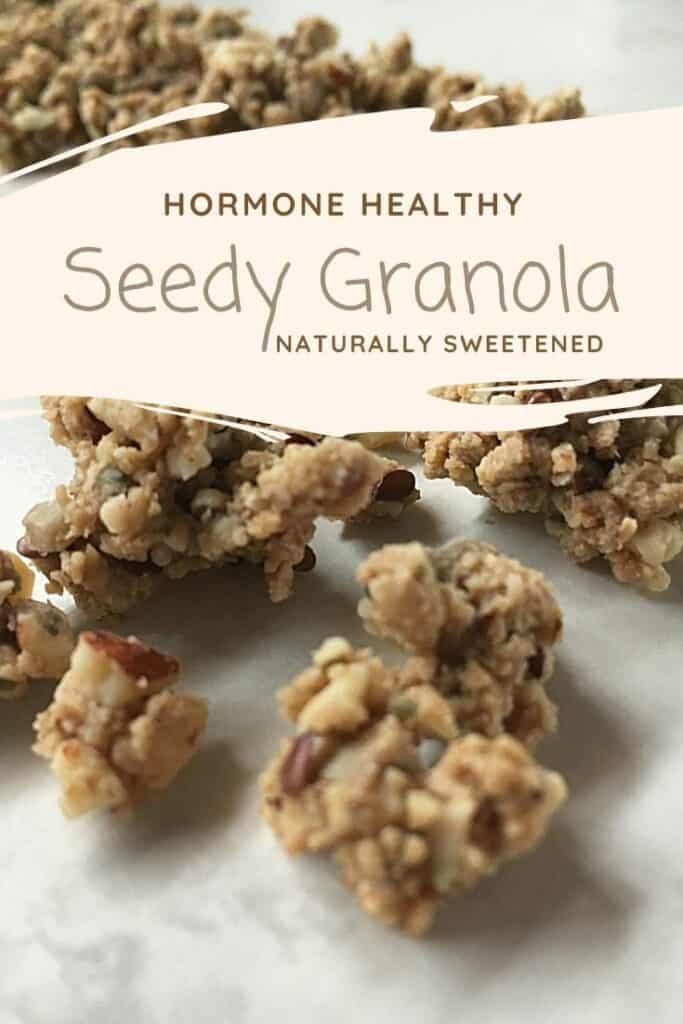 Try this Hormone healthy granola to help support hormone health, incorporate more fibre into your diet and nourish your body with healthy fats, vitamins and minerals.
Hormone disruption is all too common today with an array of toxins and Xenoestrogens wreaking havoc on our bodies, incorporating healthy fats and hormone balancing foods is a good place to start to support hormone health.
Only natural sugar is used in this recipe and can be adjusted to suit your taste if need be. We find this plenty sweet enough, if it was only for me, I would use half of it, but I need to keep the rest of the family happy too!
Many western diets also fall short of fibre, by using seeds it will boost your fibre intake and keep you feeling fuller for longer while also providing your gut bacteria with the nourishment it needs to stay healthy, strong and working optimally.
Seedy Granola
Ingredients
1/2

cup

oat flour.

1

cup

coconut flakes or desiccated.

1/3

cup

sunflower seeds.

1/3

cup

pepitas.

1/3

cup

linseed

flax seed.

1

cup

rolled oats.

1

tsp

cinnamon

1

tsp

gingerbread or pumpkin spice.

2

Tbsp

coconut oil

melted and cooled.

2

tsp

vanilla essence.

1/2

tsp

salt.

4

Tbsp

maple syrup.
Instructions
Pre heat oven to 160 C.

Make some oat flour by processing in a food processor and set aside.

Place the seeds into the food processor and pulse a few times to roughly chop them.

Place all the dry ingredients into a mixing bowl and stir to incorporate.

In a small bowl whisk to combine the oil, maple syrup and vanilla then pour over the dry ingredients and mix well.

Spread out over a baking sheet lined with baking paper and cook for around 30-40 mins, checking every 10 mins and gently folding the granola, trying to keep larger chunks intact.

When it has become golden take it out and let it cool completely before storing in an air tight container for up to 5 weeks.
Notes
You can play around with your own flavours, sometimes I like to use Garam Masala for a more robust earthy flavour.
Adding orange zest can be very refreshing.
Swap out the cup of rolled oats for a selection of mixed nuts, pulsed briefly in the food processor for a lower carb option.