Make this high protein quiche for an easy weeknight dinner, knowing you're loading up on good omega 3 and a good serving of veggies. This can easily be converted to a low carb meal by removing the pastry, making it suitable for a keto diet.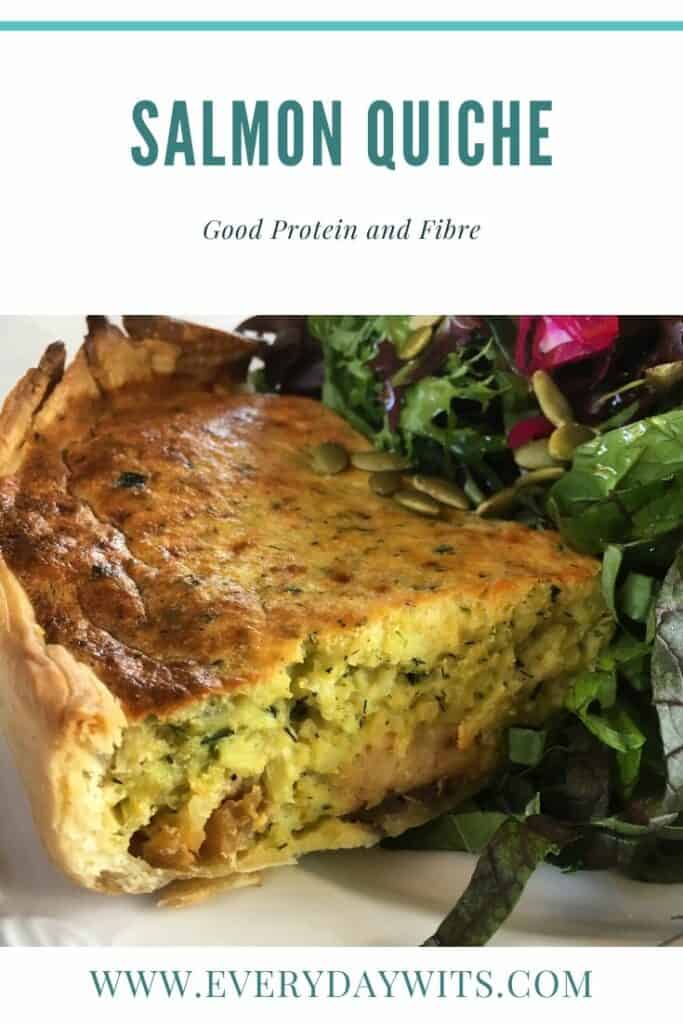 I'm always looking for new ways to incorporate fish into our diets, this is so much easier than fish patties (which for some reason my family doesn't really enjoy) plus I tend to have several portions leftover for lunches, which is a huge bonus!
If salmon is too strong tasting for you, simply try swapping it out for tuna. Tinned fish is great because it still contains its bones, which have been softened in the canning process and are completely edible. Giving us a bonus dose of calcium!
When purchasing your fish, please make sure you are buying responsibly caught, every little bit helps 🙂
Salmon Quiche
Ingredients
1 415

g

tin of Alaskan pink salmon

drained.

1/4

medium cauliflower.

2

small zucchini.

2

medium parsnips.

1

Tbsp

dried dill.

1

tsp

lemon pepper spice mix.

250

g

full cream ricotta.

4

eggs.

11/2-2

sheets of short crust pastry.

1

Tbsp

olive oil.
Instructions
Preheat oven to 180C.

Remove pastry sheets from freezer.

Prepare your ingredients by roughly chopping the vegetables and pulsing in a food processor until they are about the size of a grain of rice. If you do not have a food processor I'm sure that grating would provide you with a very similar outcome.

Heat your oil in a large fry pan to medium high and add your riced vegetables and spices, stir until they have softened. This will take about 7 mins.

While the vegetables are cooking, prepare a square or round deep pie dish (I use a square ceramic dish which is about 26cm) by laying one of the sheets of pastry over the top 3/4 of the dish so that you cover 2 full sides and most of the bottom. Then I use the other sheet to cut into strips to press into the remaining exposed areas of the dish. Prick with a fork and par bake for about 10-15 mins. I never worry about using weights to keep it flat.

Take vegetables off heat and set aside to cool. Mix together the eggs and ricotta by whisking or using a blender, until smooth and creamy. Pour over the vegetables and mix to incorporate.

Take your dish out of the oven and crumble the salmon over the pastry, flattening out the pastry if you need to. Pour the egg mix over and return to the oven, bake for about 30 mins until firm in the middle.

Let it sit for 10-15 mins before serving. Serve with a side salad.
Notes
You can easily make this gluten free and lower carb by not using the short crust pastry, simply line your pan with some baking paper instead.
Add some feta, olives and sliced roasted capsicum over the top of the quiche before baking for a Mediterranean twist.
Add 1/2 cup of free range egg whites for extra protein.
Make a batch for easy lunches, simply freeze portions in containers to pull out when you're time poor, to help save you for reaching out to take away or other unhealthy choices.