Melia azedarach is an interesting rainforest tree native to Australia and South-East Asia. Its interesting because it's deciduous, i struggle to think of any other Australian native trees that are deciduous.
Its a very attractive tree and goes by many common names: chinaberry tree, pride of India, bead-tree, cape lilac, syringa berry tree, Persian lilac, Indian lilac and white cedar.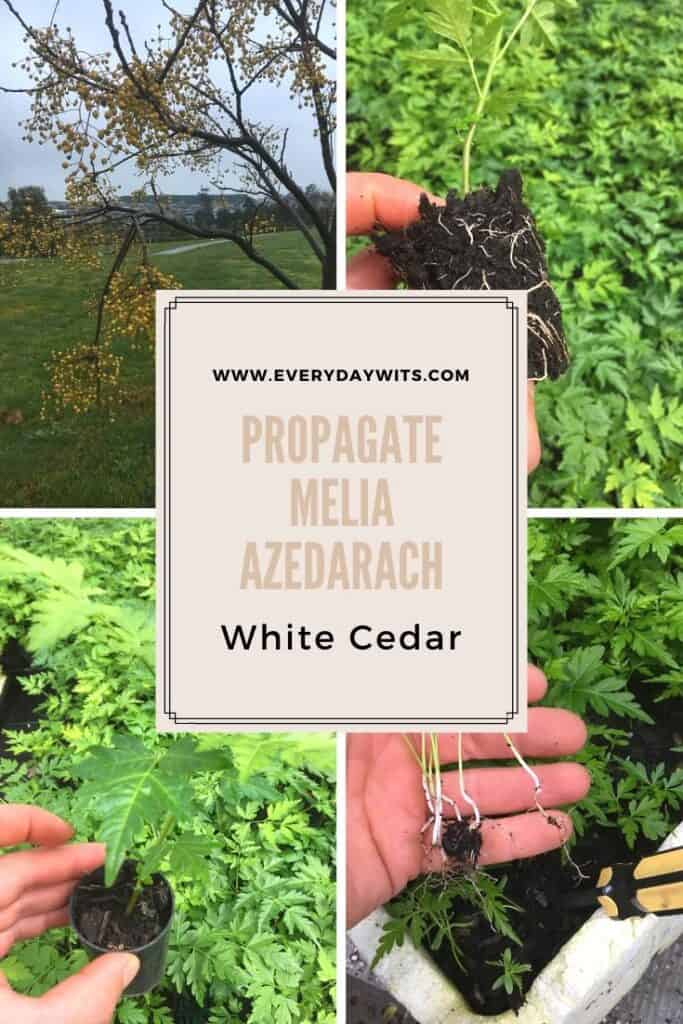 Propagation of Melia azedarach is done by sowing the seeds. During winter when the foliage is gone, mature trees have many yellow coloured berries dangling from the branches.
These seeds can be harvested and sown to produce hundreds of small white cedar trees. We grow them in our nursery. They are popular with local councils who plant them along the street and in parks.
They form quite a nice canopy and being deciduous provide an abundance of shade during the warmer month while letting in light during the winter.
Collecting the seed
We collect the seed in late winter. We the snow the seed in a styrofoam vegetable crate filled with a good quality potting mix.
Keep the soil mix and keep the crate in a sheltered area for best results. Protection from winds is the most important as it will quickly dry out the potting mix.
The seedlings will start popping up after about a month, but we wait about 3 months before we start potting the seedlings into pots.
Potting the seedlings
After 3 months we pot them into small 50mm (2″) pots. We pot into such small pots because we are producing hundreds. If you are only propagating a small number i would plant directly into a 150mm (6″)- 250mm (10″) pot.
Use a good quality potting mix with plenty of organic material. Something that will hold moisture, yet is also well draining. You don't want a potting mix that can become waterlogged.
Once potted we store the freshly potted melia's in our greenhouse. Again just ensure protection from drying winds and keep the soil moist.
We allow a further 2 months for the roots to fill the small tube pot we planted into. Once the roots are established we move the plants outside to "harden up".
Basically just getting them used to exposure to all the elements. Before this point they have lead a very sheltered existence. We let them harden up for 2-4 weeks and then we pot them into a large 250mm (10″) pot.
As you can see propagating melia azadarach is very, very easy. You can have a plant ready for garden planting in 6 months from when you collected the seed.
If you enjoy plant propagation check out the propagation page. There you'll find tutorials on all the plants we propagate. We are always adding more so be sure to subscribe to our mailing list.
Thanks for reading and happy planting!