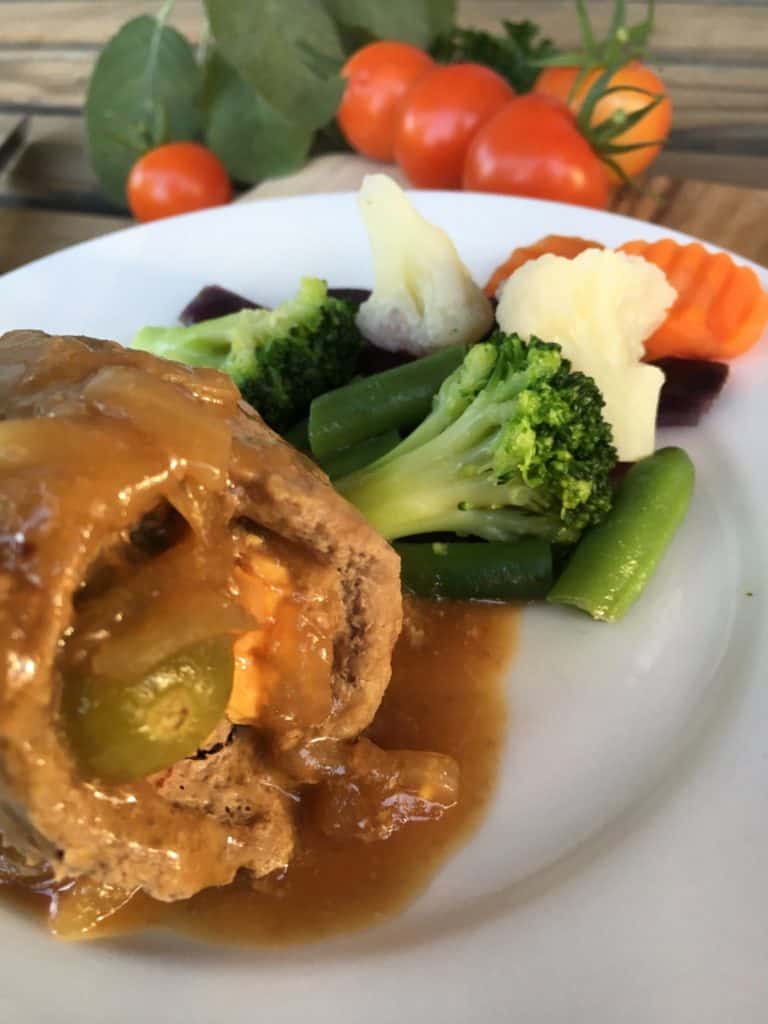 Petra's Ptacky
Serves 2
Cooking Instructions
Petra's Ptacky is high protein, quick and easy to prepare this simple meal is ready in under an hour. Low carb if you serve it with a side of vegetables, this meal makes it to our table frequently. 
My heritage is Czechoslovakian and I'm grateful that Kev has European ancestry too, this meant that cooking traditional Czech meals was welcomed by him, it enables me to keep my family recipes alive and hopefully pass on to our children.
Ingredients.
-1 large onion, sliced.
-2 boiled egg, quartered.
-4-6 pickles (gherkins). Plus 2Tbs of pickle juice.
-400g sizzle steak (about 6 pieces of tenderised meat)
-1/2 stick Cabana
-6 tsp german style mustard (thommy)
-1Tbsp Gravy mix.
Method.
Prepare all your ingredients:  peel and quarter the eggs, slice onion, slice gherkins in half length ways, slice your Cabana into 3 pieces then slice length ways. If you can't find sizzle steak, buy  veal schnitzel instead. Or else feel free to use any beef/pork and tenderise it yourself.
Spread 1 tsp of mustard over each piece of meat and season, place 1 piece of each: egg, gherkin and cabana on to the meat. Wrap the filling up with the meat and secure with a toothpick.
Heat a little olive oil in a pressure cooker and sauté the onions for about 5 mins, until softened. Place the meat parcels on top of the onion add the pickle juice and 2 cups of water. Place lid on and cook for 30 minutes.
When cooked, remove meat and place on a plate, cover to keep warm. Mix the gravy with a 1/4 cup of water and add to the pot, simmer down until reduced to a nice thick gravy.
Pull out the toothpicks before serving, top with gravy and serve with your favourite sides.
Helpful tips
This recipe could also be made in a slow cooker, you'd just have to pour the liquid out and mix in a saucepan to make the gravy.
A dutch oven on the stovetop works well too, but not as tender, cooking time will be longer.
This is a really high protein meal, it could easily serve 4 with a large side of mixed vegetables.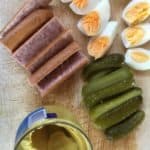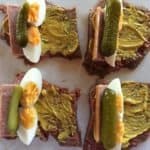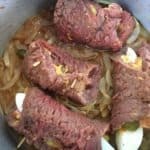 Nutritional Value (Per Serve) (Approx.)
Prep 15min     Cook 30min
Cal 391    Kj  1635
Fat 13.9g
Carbs 11.7g
Protein 48.5g