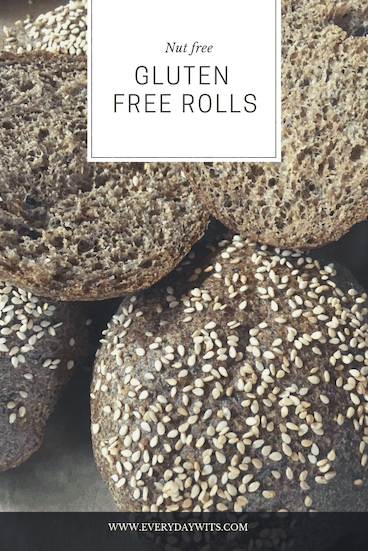 Serves 12
Since reducing grains in our household, and my own personal journey through the ketogenic diet, I've been on a mission to find a good bread roll recipe. Years of eating bread have trained our minds to crave it.. we try very hard to eliminate it, by eating more vegetables and being creative in the kitchen. But lets face it, sometimes we just want to feel like we're biting down into a burger.
I have tried a many bread recipes, usually containing 12 eggs or huge amounts of almond flour. Instead I decided to focus on a creating a roll, it's easier to portion out. And my requirement was to not have an overdose of phytic acid from nuts.
I stumbled across a Gluten free bread roll recipe from wholesomepatisserie.com which was using seeds instead of nuts. The recipe was still too heavy and dense for my liking. So after quite a few batches of tweaking some ingredients, I've finally created a roll I'm super happy with, and I hope you are too!
Using seeds makes these extra nutritious. Seeds contain all the starting materials needed to create complex plants, therefore they transfer all that goodness to you. They're a great source of fibre, minerals, vitamins, and heart healthy monounsaturated and polyunsaturated oils.
With the inclusion of linseeds, they'll provide you with good levels of Omega 3 fatty acids, for those who don't eat fish, this is a great alternative to obtaining these healthy fats.
Nut free, gluten free rolls.
Ingredients
1

cup

psyllium husks

60g.

1/2

cup

coconut flour

60g.

3

Tbsp

quinoa

40g.

3

Tbsp

linseed

35g.

3

Tbsp

chia seed

40g.

1/4

cup

sunflower seeds

35g.

1/4

cup

pepitas

40g.

1

tsp

himalayan salt.

1

tsp

baking powder.

1

tsp

bi-carb soda.

140

g

egg white.

1

Tbsp

apple cider vinegar.

2

Tbsp

olive oil.

450-500

ml

boiling water.

Sesame seeds to garnish.
Instructions
Pre heat oven to 180 C.

Place all of your dry ingredients into a food processor and pulse until it becomes a smooth flour like consistency.

Transfer your flour to a large mixing bowl, add the egg whites, vinegar and olive oil, stir together, making a big clump.

Pour in 450ml of the boiling water and quickly stir it around. It should come together into a play dough type consistency. If you need to add a bit more water you can.

Use another bowl filled with water to wet your hands, then grab a large handful of mixture and shape into a palm sized circle shape, flattening it to around the same thickness of your palm. Similar to making a hamburger pattie.

Working quickly, repeat the process to make 12 rolls, placing them onto a tray lined with baking paper. Pat the tops of them with water to moisten and sprinkle some sesame seeds on top, pressing them in a bit.

Place the tray into the oven and bake for 55-60 minutes. You'll know they are cooked when they feel hollow when tapped on the underneath.

Allow to cool completely before slicing.
Notes
These freeze very well. I usually slice in half and place into a zip lock bag. They are great toasted or fresh.
I usually use the liquid egg white available in the supermarkets. An extra large egg contains approximately 40g of white. If you don't want to buy the liquid egg whites, you could play around with using either 3 or 4 egg whites.
Handy tip: Make sure you are ready to form the rolls as soon as possible after mixing. The mix will begin to harden quite quickly. If you need to, add a little extra water with your hands when your forming them and squish the dough together to incorporate the extra water.

Click here for more of my bread recipes