Dinner in 30 minutes? Yes, please!
This quick, one pot wonder is a family favourite of ours. Loaded with vegetables and spices, it's warming, nourishing and budget friendly. Does that check all your boxes? You can make it vegetarian or Whole 30 by simply following the suggestions at the end.
Healthy cooking need not be expensive, most of these ingredients are very common and cheap to buy. A visit to your local green grocer can often find you saving money with specials on seasonal produce. It's also a great recipe to simply use up any vegetables you have on hand.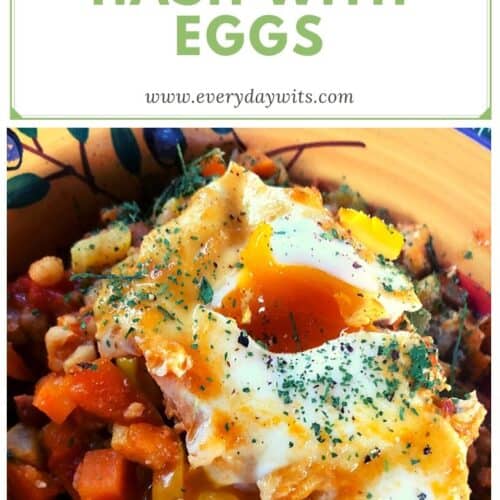 Mexican Hash with eggs
Ingredients
1

small sweet potato

diced.

2

carrots

diced.

1

medium zucchini

diced.

1

small capsicum

diced.

1

chorizo

diced.

1

tin canellini beans

drained.

1

brown onion

finely diced.

3

cloves

garlic

grated or finely diced.

1

tin organic crushed tomatoes. *

2

Tbsp

organic tomato paste.

1

tsp

oregano dried.

1

tsp

taco seasoning.

1

tsp

tempero baiano seasoning.

salt and pepper.

4-6

eggs.
Instructions
Prepare all your ingredients.

Heat a large frypan on medium, add your chorizo, onion and garlic. I find the chorizo lets out enough oil to brown up the onion and garlic, add some olive oil if you need to. Sauté until lightly browned.

Add the spices, stir until fragrant, then add the rest of your remaining ingredients (except the eggs).

Use some broth or stock if you need extra liquid, cover and simmer for about 15 minutes or until the sweet potato are tender. Taste and season with salt and pepper.

Make a well in the mixture to crack the eggs into, allowing one egg per person. Cover and cook for about 5 mins. You'd like the white to be cooked but have some wobble in the centre for a gooey yolk.

Serve warm with some crusty bread and a sprinkle of fresh parsley or cilantro.
Notes
For extra flavour you can substitute the crushed tomatoes for a jar of homemade salsa.
Alternatively you could poach or pan fry the eggs and simply serve them on top. I do prefer this, however when I'm pressed for time or simply don't want extra dishes I will cook them in the mixture.
You could easily remove the chorizo in this dish to make it vegetarian. If doing this, I recommend adding 1 tsp of smoked paprika for extra flavour. You will then have to use some olive oil to cook the onion and garlic.
To make this Whole 30, remove the canellini beans and make sure your chorizo is compliant.
Play around with using up whatever vegetables you have on hand, this dish is perfect for using up old vegetables laying around in your fridge, or specials you've picked up from the green grocer.