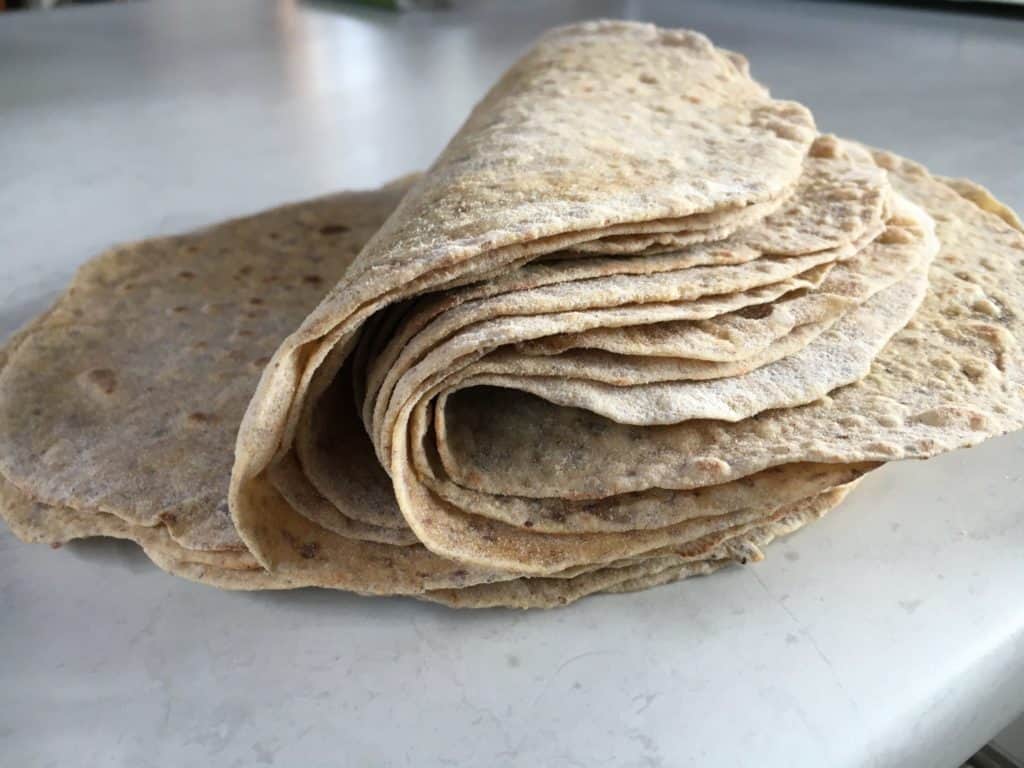 High fibre wraps, healthy homemade, know what your eating! No highly processed ingredients, no preservatives, no additives, take control of what goes into your body.
These wraps are very simple to make and once you've made them a first time, you'll get much faster next time around.
Since we're not gluten intolerant, it was simple enough with regular flour, then I came across Atta flour. An Indian flour made with wholemeal durum wheat, the entire grain comprising of the endosperm, germ and bran are used, giving the flour a high fibre content.
It's also high in gluten and protein, the gluten helps in rolling the dough out nicely.
High fibre Wraps
Ingredients
Flour
3

Cups

atta flour

1

Cup

bakers flour
Oil
1

tbsp

olive oil

1/2

tbsp

olive oil
Instructions
Boil your kettle

Whilst kettle is boiling, place all remaining ingredients apart from the 1/2 tbsp of olive oil (this will be used later) into a large bowl. Mix together.

Place about 1 3/4 cups of the hot water into the mix and stir it through. We are looking for the dough to be sticky, yet still pliable. If you need to add more water, do so. (see notes)

Place the 1/2 tbsp of oil onto a clean bench or dough mat, rub it out to cover a place mat sized area.

Tip your dough out onto your oiled bench and roll into a log shape. Use a dough scraper or knife to cut and roll into pieces about the size of a golf ball. Row them up onto your oiled bench and cover with a tea towel.

I like to roll them out on my chopping block, for one, it gives me an idea of what size to roll to and two, they don't stick very much at all. (see notes)

Start warming up a fry pan on medium heat, I use to use my cast iron fry pan, but i found i burned them in patches. Now i use a ceramic coated pan and i find that it cooks evenly and quickly without burning.

Flour your chopping board or bench and place a piece of dough on top, sprinkle a little flour over, roll out, flip over and roll out again. Until you've reached your desired size, mine are about 22cm (8.5″) in diameter.

Place you wrap onto your pan and get to rolling out the next one. Keeping an eye on the wrap in the pan, when it bubbles (should take about 1-2 minutes), flip it over, the second side will only take about 30 seconds. Remove and place between a tea towel to keep warm.

Continue until you are finished.