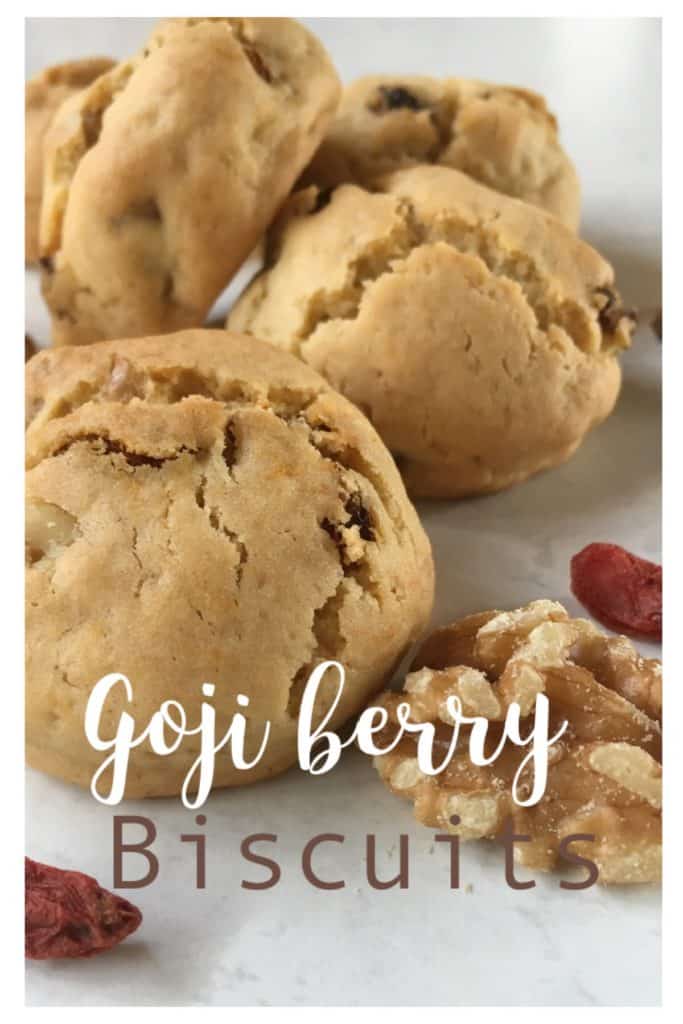 Goji berry biscuits Serves 25
Incorporating goji berries into these biscuits gives them a good source of vitamins and minerals, including: Vitamin A, C, iron, fibre, zinc and antioxidants. They also contain all 8 essential amino acids, so for a fruit they pack a surprising amount of protein. The carbohydrates in goji berries are also complex carbs, meaning your blood sugar will raise slowly, reducing your risk of a sugar crash afterwards. 
Paired with the Walnut, another powerhouse of nutrients, with the added benefits of polyphenols and healthy Omega 3 fats. These biscuits will give you great benefits whilst also indulging your sweet tooth!
Ingredients.
85g butter.
1 egg.
1/3 cup sugar.
1 1/4 cup self raising flour.
1/3 cup walnuts, chopped.
1/3 cup goji berries.
1/2 tsp salt.
1 tsp vanilla.
Method.
Pre heat oven to 180 C.
Melt butter in a saucepan, then add sugar and stir to dissolve.
Cool well. Mixture should be thick  and creamy. It may seperate again, but this does not matter.
Beat in egg, add remaining ingredients, stir to incorporate.
Use a teaspoon to get a scoop and roll it into a ball, placing them onto greaseproof paper, keeping space in between each ball.
Bake in oven for 15-20 mins, until golden brown.
Wait for them to cool slightly before moving them onto a wire rack.
Store in an air tight container for 5-7 days.
Notes.
The longer you cook them the lighter and crunchier they will be. If you like your biscuit softer and chewier on the inside, 15 minutes will be sufficient cooking time.
Nutritional Information
(Per Serve Approx.)
Calories 77   Kilojoules 322
Fat 4g   Carb 9g   Protein 2g