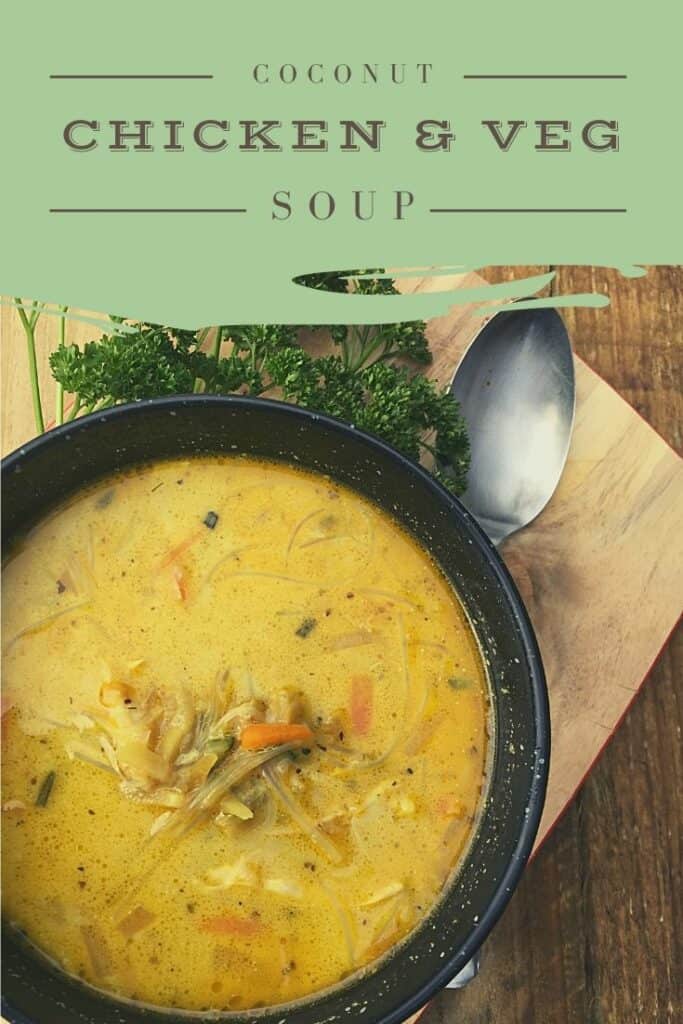 A soup which our kids absolutely love and actually request! Using the best winter vegetables on offer it is a cost effective, budget friendly family meal.
Loaded with nutrients, fibre, protein and healthy fats it's sure to keep you satiated and possibly even keep the dreaded winter colds at bay!
Being Gluten free it will just about suit anyone! Vegetarian? No worries, simply add in a can of cannellini beans for extra protein instead of using chicken.
Coconut Chicken and Veg Soup
Ingredients
3

parsnip

2

large carrots.

1

large zucchini.

6

free range chicken drumsticks.

2

Tbsp

olive oil.

4-6

cups

broth. * see notes.

1

tsp

salt.

1/2

tsp

black pepper.

1

tsp

turmeric.

2

tsp

oregano.

1

tsp

chilli flakes.

2

tsp

finely chopped rosemary.

1

tsp

curry powder.

3

cloves

of garlic

finely chopped or grated.

1

" piece of ginger (grateor 1/2 tsp powdered.

2

tsp

fish sauce.

1 400

ml

can of full cream coconut milk

I love the TCC brand

50

g

vermicelli

small packet
Instructions
Start by making your broth, if using store bought, move onto next step.

Using a mandolin, finely julienne your vegetables (matchstick size).

Grate your garlic and ginger.

Heat your olive oil in a large pot, add your ginger, garlic and spices. Stir until fragrant and lightly brown. Add your vegetables and stir through until softened. About 5 mins.

Pour in your broth and fish sauce, if you are using store bought broth, place your chicken on top and cover with a lid (making sure your chicken is covered at least 1/2 way with water). Simmer for 20 mins.

Remove your chicken onto a plate, let it cool so that you can strip off the meat, once the meat is ready, place it back into the pot. If you've cooked your own broth your meat can be added in now.

Pour in the coconut milk and add the vermicelli noodles.

Turn the heat off and cover the pot, letting the noodles cook. This will take about 5 mins. It will also warm up the chicken. Taste, season a little more if needed.

Serve with some crusty bread for a hearty winter fare.
Notes.
It is very simple to make your own broth for this soup, if you have a pressure cooker it'll be even quicker!
Simply place a chopped onion and some celery (great way to use up the leaves) into your pot, if you have some carrot and mushroom that could get used up, add those in also. Add a bay leaf or some rosemary sprigs. Place your drumsticks in, season and pour in 4-6 cups of water.
Seal and cook for 20 mins.
You could also do this on the stove top in a pot, you will just need to cook it longer. Around 40 mins, but it'll be well worth it!
Once the cooking time has finished, pull out the chicken and set it aside on a plate, when it has cooled, pick the meat off and have it ready to add to your soup.
When it is time to add the broth to your soup, simply strain the liquid through a sieve directly into your soup pot.
Tips.
This freezes very well, I usually divide into 2 serving sizes first.
Sometimes i'll swap out the vermicelli for a tin of cannellini beans, though the kids love it with the vermicelli!
You could male this super quick if using store bought broth and a roast chook, for a quick healthy weeknight meal.
Don't skimp on the coconut milk, use the full fat, its a healthy satiating fat which our body needs for good hormone health.
If you like this recipe click here to check out more healthy meals.